A good grilling: Answering FAQs about our Healthy Eating Plate
Harvard Health Publications, publisher of the Harvard Health Letter, and the Harvard School of Public Health's nutrition department developed the Healthy Eating Plate as an alternative to the federal government's MyPlate eating guide. We conferred with Dr. Walter C. Willett, chair of the nutrition department and a member of the Health Letter's Editorial Board, to answer your questions about it. You can find the full version of the plate at www.health.harvard.edu/plate/healthy-eating-plate.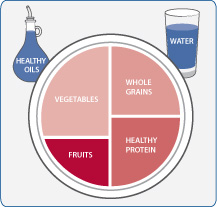 Why aren't eggs included as a healthy protein on the Healthy Eating Plate?
The omission is more a matter of limited space, and not having the room to list all the healthful sources of protein, than it is nutritional advice. For most people, eggs are a good, healthful — if limited — source of protein. A large egg has a little over 6 grams, which is less than half the amount of protein in a cup of red kidney beans or a 3-ounce serving of salmon.
To continue reading this article, you must
login
.
Subscribe to Harvard Health Online for immediate access to health news and information from Harvard Medical School.