Reduce your risk of silent strokes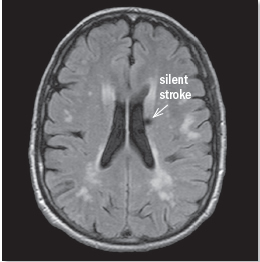 As seen on this MRI scan, a silent stroke
involves small spots of damage to areas of the brain that are not directly associated with functions such as vision or speech. Yet researchers are finding these strokes can affect memory.
Exercise, eat a healthy diet, and manage blood pressure and cholesterol to lower your odds.
When you think of a stroke, you probably picture obvious symptoms, such as sudden numbness on one side of the body and difficulty speaking. But there are also events known as silent strokes that occur without symptoms, yet have the potential to severely impair your memory and brain health.
To continue reading this article, you must
login
.
Subscribe to Harvard Health Online for immediate access to health news and information from Harvard Medical School.