Treating sleep apnea may stave off cognitive decline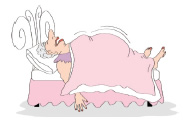 Heavy snoring and sleep apnea may be linked to early declines in memory and thinking, according to a new study published online April 15, 2015, by the journal Neurology. The research also suggests that treating sleep apnea with a continuous positive airway pressure (CPAP) machine may delay the declines.
For the study, researchers reviewed the medical histories for 2,470 people ages 55 to 90 and categorized them as free of memory and thinking problems, in early stages of mild cognitive impairment, or with Alzheimer's disease. For each category, the researchers compared people without sleep apnea, people with untreated sleep apnea, and people with sleep apnea who had used CPAP machines to aid breathing as they slept.
Among those with cognitive impairment, they found that people with sleep apnea were diagnosed at an average age of 77, compared with an average age of 90 for those who did not have sleep breathing problems. Within the apnea group, though, people with untreated sleep apnea who developed cognitive impairment were diagnosed at age 72, compared with age 82 for those who used a CPAP machine.
To continue reading this article, you must
login
.
Subscribe to Harvard Health Online for immediate access to health news and information from Harvard Medical School.