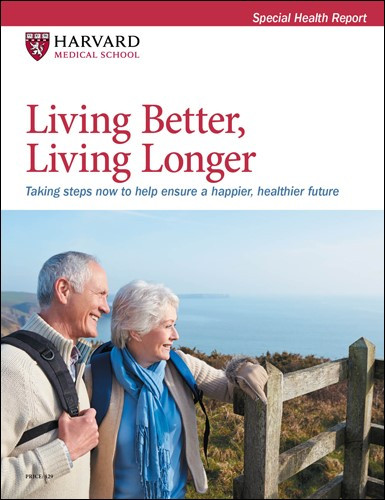 Living Better, Living Longer
With this Special Health Report, Living Better, Living Longer, you will learn the protective steps doctors recommend for keeping your mind and body fit for an active and rewarding life. You'll get tips for diet and exercise, preventive screenings, reducing the risk of coronary disease, strengthening bones, lessening joint aches, and assuring that your sight, hearing, and memory all stay sharp. Plus, you'll get authoritative guidance to help you stretch your health care dollar, select a health plan that meets your needs, prepare a health care proxy, and more.
Other Product Information
Now that your time is your own, make the most of it! A comprehensive new health, wellness, and planning guide from Harvard Medical School will show you how.
Living Better, Living Longer details the smart steps seniors can—and should—take now to keep the golden years shining brightly. It is filled with practical tips and guidance for protecting your coming years from those problems that can derail a full and rewarding seniority.
Key to doing all the things you want to do is good health. In Living Better, Living Longer Harvard doctors share the latest findings about those lifestyle choices and preventive screenings that can make a measureable and positive contribution to your future health and longevity.
You'll discover how you can incorporate exercise and wholesome eating into your life without sweat or sacrifice. You'll learn how to banish boredom from your workouts and add spice to your diet with delicious foods that expand your palate while slimming your waist.
Importantly, the report will give you new ways to challenge your mind and memory to strengthen their agility and resiliency. You'll be briefed on what you can do to assure that your vision and hearing stay in peak condition. You'll get tips for improving sleep and lessening stress. And the doctors will give you targeted strategies for keeping your joints pain-free and your bones strong.
Living Better, Living Longer will also add to your peace-of-mind when it comes to making the right choices for health insurance, long-term care, advance directives, and more. The report deciphers the often-confusing options in Medicare and Medigap coverage, the costs and benefits of long-term care policies, and points to consider before drafting a living will or health care proxy. And the report weighs the pros and cons of retirement communities, assisted living facilities, staying your own home, or downsizing to a new house.
Enjoy the tomorrows you've waited for. Order your copy of Living Better, Living Longer today!
Prepared by the editors of Harvard Health Publishing in consultation with Robert Schreiber, MD, Medical Director of Evidence-Based Programs, Hebrew SeniorLife Department of Medicine Medical Director, Healthy Living Center of Excellence Clinical Instructor of Medicine, 50 pages (2021).
Reviews
No reviews have been left for this newsletter. Log in and leave a review of your own.
You might also be interested in…
Advance Care Planning
Living wills and health care proxies — documents known as advance care directives — give you a voice in decisions about your medical care at the end of life. Without these documents, choices may be left up to a doctor or a judge — someone who does not know your values, beliefs, or preferences. This Special Health Report, Advance Care Planning: A guide to advance directives, living wills, and other strategies for communicating health care preferences, will help you plan ahead and create legal documents to guide decision makers at this important time.
Read More
Free Healthbeat Signup
Get the latest in health news delivered to your inbox!