How long will you stay healthy?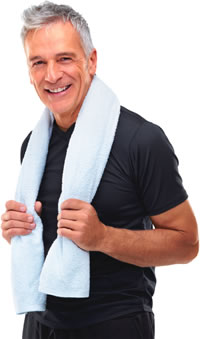 Photo: Thinkstock
It looks like hard work to stay healthy is paying off: people in the United States are enjoying more years of good health than Americans of 20 years ago. That's according to a study published Sept. 12, 2013, in the American Journal of Public Health. Researchers found that a typical 65-year-old can expect 1.7 more years of healthy living than his or her counterpart from 20 years ago. It's even more for 25-year-olds; they'll get 2.4 more years of good health. Researchers say people are reporting increased energy and fewer depressive and anxious moods, vision impairments, and problems meeting routine needs compared with the last generation, and they're chalking it up at least partly to healthier lifestyles, medical advances, better treatments, and new drugs. The findings may offer more than good news; they may help lay a foundation to determine how to get more from the health care system. "Until now, there have been no widely accepted ways to measure the population's health over time. Our analysis allows us to do this. Thus, we can measure the output of the health system as it changes and address where investments are more and less valuable," says Harvard economics professor David Cutler, one of the study authors.
To continue reading this article, you must
log in
.
Subscribe to Harvard Health Online for immediate access to health news and information from Harvard Medical School.