Ask the doctor: What does a low ankle-brachial index mean?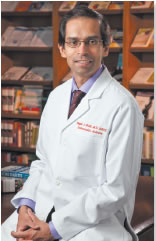 Q. Because I'm a former smoker and was having leg pains, my doctor recommended that I have an ankle-brachial index test. He said my score was on the low side. What does that mean?
A. The ankle-brachial index is a test that measures blood pressure at the brachial artery (in the arm, close to the heart) and the ankle (far from the heart). Normally, blood pressure in the legs is the same or a little higher than in the arm, so the ratio between the arm and ankle is 1.0 or higher. A lower ratio (less than 0.95) means blood is not moving well in the lower half of your body. You may have peripheral artery disease (PAD), which is usually caused by a buildup of fatty deposits in arteries in the legs that limits blood flow to the muscles. People with significant leg pain and cramping during exercise—the most common symptoms of PAD—usually have an ankle-brachial ratio of 0.8 or less.
To continue reading this article, you must
log in
.
Subscribe to Harvard Health Online for immediate access to health news and information from Harvard Medical School.