Dental implant reality check
Are these advances in dental health right for you?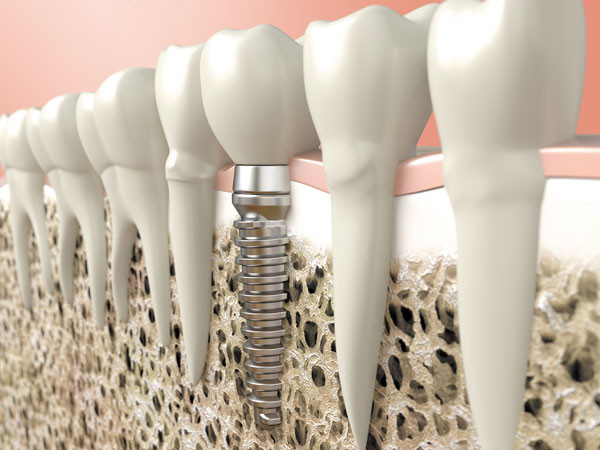 Image: GuidoVrola/Thinkstock
Tooth decay, gum disease, and injury to the mouth can all lead to the loss of one or more teeth. The standard solution usually involves removable dentures or a fixed bridge. A newer option, dental implants, is also gaining popularity. "Implants can significantly improve your quality of life," says Dr. German Gallucci, department chair of restorative dentistry at the Harvard School of Dental Medicine.
About implants
Uses and benefits
In older adults, implants are typically used to replace one or two missing teeth (but not a mouthful). "Before implants, the only option we had was a bridge. With the implant, you can independently restore the tooth. That's a significant improvement in our therapy, to the point that we have reduced the number of bridges we do nowadays," says Dr. Gallucci.
Implants are also used to anchor a bridge or dentures. "Without implants, dentures move while you eat or speak, which makes it difficult to do either. But when you clip the denture onto an implant, it stays in place and functions normally," says Dr. Gallucci. He says supporting dentures or bridges may require two or more implants.
Requirements
Considerations
There are few downsides to getting implants. One is cost. "The range varies from state to state. It could be between $2,000 and $6,000 for one tooth and crown. But that's comparable to a bridge," says Dr. Gallucci.
Some insurance plans cover implants, especially for a missing tooth. Medicare does not pay for implants.
Another drawback: the time involved in healing. But the benefits, says Dr. Gallucci, can be worth it.
If you're interested in pursuing implants, he recommends getting several opinions. You can start by making an appointment with either a dentist who's surgically trained to place implants and has years of experience, or a prosthodontist—an expert in tooth restoration and replacement.
What to eat when your teeth and gums hurt
It's common after oral surgery to have some pain for a day or two, or even longer. This may mean that you have to be especially mindful of what you eat and drink. Sensitivity to hot and cold items is typical. But even the act of chewing can be uncomfortable.
What's best to eat? "Avoid crunchy and sticky foods and stick to a soft diet," says Dr. German Gallucci, a restorative dentistry expert at the Harvard School of Dental Medicine. "Go with soups, pastas, yogurt, and even baby food."
He advises avoiding the side of your mouth that's been operated on, and eating only small bites of food that keep your teeth from making forceful contact.
Other tips: Avoid anything very hot on the first day after surgery, as heat can increase the risk of bleeding; drink a lot of fluid, at least five or six cups per day; and baby yourself. "Give your mouth a chance to heal," he says.
To continue reading this article, you must log in.
Subscribe to Harvard Health Online for immediate access to health news and information from Harvard Medical School.
I'd like to receive access to Harvard Health Online for only $4.99 a month.
Sign Me Up
Disclaimer:
As a service to our readers, Harvard Health Publishing provides access to our library of archived content. Please note the date of last review or update on all articles.
No content on this site, regardless of date, should ever be used as a substitute for direct medical advice from your doctor or other qualified clinician.