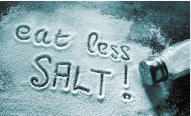 Q. An article in your June issue, "6 good suggestions from the proposed nutrition guidelines," advocates limiting sodium intake to 2,300 milligrams a day, and the American Heart Association recommends an even lower intake of 1,500 milligrams. I've read that the research on salt is contradictory and that reducing salt consumption to such low levels can be harmful. Can you tell me why so many health groups advise us to strictly limit our salt?
A. The body requires a small amount of sodium in the diet to control blood pressure and blood volume. However, most people consume many times the amount of sodium needed. A low-sodium diet contains fewer than 2,300 milligrams (mg) of sodium—about the amount in one teaspoon of table salt—each day. People with certain medical conditions such as high blood pressure, kidney disease, and heart problems can benefit from a diet that is low in sodium.
The panel of experts that drafted the new guidelines considered an analysis in which researchers estimated the benefits of reducing salt intake. They used a computer simulation of the incidence and prevalence of coronary artery disease and the associated mortality and costs in U.S. adults. The projected annual benefits from a lowering the average person's sodium intake—around 3,500 mg a day—to 2,300 mg included
preventing as many as 120,000 new cases of coronary artery disease, 66,000 strokes, and 99,000 heart attacks

reducing the number of deaths from any cause by as many as 92,000

saving up to $24 billion in health care costs.
So the reason that so many medical and health-related organizations advise Americans to decrease our salt intake is because most of us consume so much of it that we are increasing our risk of heart disease and stroke.
— Anne Fabiny, MD
Editor in Chief, Harvard Women's Health Watch
Image: Thinkstock
Disclaimer:
As a service to our readers, Harvard Health Publishing provides access to our library of archived content. Please note the date of last review or update on all articles. No content on this site, regardless of date, should ever be used as a substitute for direct medical advice from your doctor or other qualified clinician.