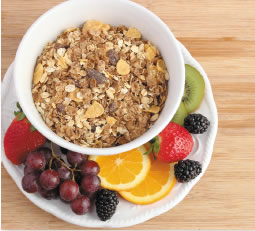 Image: Thinkstock
Cereals containing whole grains provide insoluble fiber; fruits furnish soluble fiber.
Adding this good-for-you substance doesn't have to be like eating cardboard. It can actually make your meals and snacks more satisfying.
You can probably recite the benefits of dietary fiber—reduced risks of colon cancer, heart disease, and diabetes top the list. It also prevents constipation and helps you lose weight. These are the foods that even help hemorrhoids. Yet if you've resisted meeting the daily guidelines of 25 to 35 grams of fiber per day despite knowing how good it is for you, could it be that you think of high-fiber foods as dull, dry, and tasteless?
"High-fiber food doesn't have to taste like the box it's packaged in," says Stacey Nelson, manager of clinical nutrition at Harvard-affiliated Massachusetts General Hospital. She's quick to note that natural whole foods can provide all the fiber you need, along with a cascade of color and taste. The secret is to add them to your diet, a few at a time. Working a little more fiber into every meal and snack can inject some variety into your diet and fill you up faster. Nelson offers these tips:
1. Substitute fruits or veggies. They're a good snacking alternative to refined or processed foods like chips, pretzels, and crackers. They're great with salsas, nut butters, Greek yogurt, and other dips. If you're bored with the standard crudité platter, swap bok choy, fennel, jicama, or a bunch of frozen grapes for the usual celery sticks and carrot spears.
2. Check the first ingredient. For bread, cereal, or pasta, the list of ingredients should begin with the word "whole," as in whole wheat or whole rolled oats. Whole grains naturally contain more fiber, protein, and antioxidants, and fewer artificial colors and flavors than refined grains. Just because a label says "seven grain" or "12 grain" does not necessarily mean that the grains are whole; all seven or 12 grains might be refined.
3. Be creative. Find ways to add more legumes and beans to your diet. Chickpeas, pinto beans, black beans, lentils, and dried green and yellow peas are great bases for soups and stews. Mash them and stir them into dips or spread them on wraps and sandwiches.
4. Don't overlook seeds. You're probably aware that walnuts, almonds, and other nuts are good sources of fiber, but so are seeds—particularly sunflower seeds, flaxseeds, and sesame seeds. Sprinkle a tablespoon or two of your favorite seed on breakfast cereals and salads.
5. Eat the peels. A lot of the fiber is in the fruit's protective cover. While you aren't expected to devour a banana peel, you'll gain fiber when you enjoy apples, pears, peaches, cucumbers, and potatoes, skin and all.
6. Make your own popcorn. Homemade popcorn is likely to be better for you than microwaved or bagged popcorn, especially if you use an air popper. Drizzle on a little olive oil and get creative with seasonings.
Types and Sources of Dietary Fiber

Type

What it does

How it helps

Where to find it

Soluble fiber

Dissolves in water, forming a gel in intestines

Binds to fatty substances in intestines and helps carry them out as waste, lowering LDL cholesterol

Regulates the body's use of sugars, helping keep hunger and blood sugar in check

Dried beans

Peas

Lentils

Oats

Barley

Apples

Bananas

Berries

Citrus fruits

Pears

Insoluble fiber

Holds on to water, moving waste through intestinal tract

Helps push food through intestinal tract quickly, helping to prevent constipation

Whole-wheat products

Wheat and
corn bran

Asparagus

Broccoli

Celery

Tomatoes

Zucchini

Skins of apples, pears, potatoes