Computed Tomography (CT)
What Is It?
Computed tomography, also called CT or CT scan, is a process that uses X-rays and computer technology to make cross-sectional images of the body. A series of X-ray pictures, each a thin slice, are put together in a computer to form a three-dimensional view of the inside of your body. If an X-ray is like looking at a photo of a heart, a CT scan is like looking at a model that you can pick up and examine from any angle.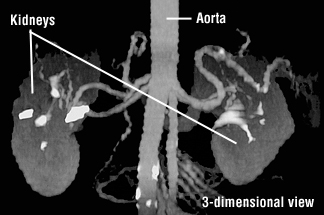 In a CT scan, X-rays pass through the body and are analyzed by a computer. The computer builds an image based on the amount of X-rays passing through tissues of different thickness. For example, bone appears white on a CT scan, and gas bubbles in the stomach and intestines appear black.
To continue reading this article, you must
login
.
Subscribe to Harvard Health Online for immediate access to health news and information from Harvard Medical School.