Pause in CPR before shock reduces survival
When the heart suddenly stops beating, an event known as a cardiac arrest, the combination of cardiopulmonary resuscitation (CPR) and a shock from an automated external defibrillator offers an arrest victim the best chance of survival. If the cardiac arrest is seen by someone, and CPR is started right away, there's no need for mouth-to-mouth breathing. Doing this hands-only form of CPR means pushing hard on the chest about 100 times a minute without stopping.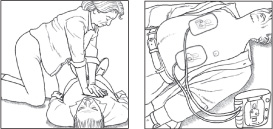 Preparing the arrest victim to receive a shock from the defibrillator sometimes temporarily stops CPR. The shorter the pause, the better. A study of more than 800 victims of cardiac arrest showed that stopping chest compressions for 20 seconds before delivering the shock reduced the odds of surviving by 50% (Circulation, July 5, 2011).
To continue reading this article, you must
login
.
Subscribe to Harvard Health Online for immediate access to health news and information from Harvard Medical School.