On the horizon: Removing fat makes HDL ("good cholesterol") even better
High-density lipoproteins (HDL) protect the heart and arteries by removing cholesterol lodged in artery walls and riding through the bloodstream inside of low-density lipoproteins (LDL). Here's a novel way to amplify HDL's cholesterol-busting activity: Take some blood from a person. Extract the HDL. Use a process called delipidation to remove cholesterol and other fats (lipids) from the HDL. Then put the defatted HDL particles back into the bloodstream. This seems to turbocharge HDL and make it work even more aggressively against cholesterol.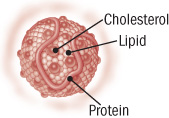 In the first clinical trial of HDL delipidation in humans, the procedure was safe and effective. Treated HDL caused cholesterol-filled plaque to shrink more than did untreated HDL (Journal of the American College of Cardiology, June 15, 2010). The trial was too small and didn't last nearly long enough to see if this prevented future heart attacks or improved survival.
To continue reading this article, you must
log in
.
Subscribe to Harvard Health Online for immediate access to health news and information from Harvard Medical School.