Heart Health
Long-term acetaminophen use may boost blood pressure
Research we're watching
Acetaminophen, the popular pain reliever known by the brand name Tylenol, can raise blood pressure when taken regularly, according to a study in the Feb. 7, 2022, issue of Circulation.
Earlier research had hinted at this problem, so investigators designed a clinical trial to clarify the risk. They recruited 110 people with high blood pressure and randomly assigned them to take 1,000 milligrams (mg) of acetaminophen or a placebo four times a day for two weeks. (The 4,000-mg daily dose is the generally recommended maximum daily amount for healthy adults.) After a two-week wash-out period, those taking acetaminophen were switched to taking the placebo and vice versa for an additional two weeks. While people were taking acetaminophen, their blood pressure rose by an average of 5 points, the researchers found.
Experts have long known that other common pain relievers — nonsteroidal anti-inflammatory drugs such as ibuprofen (Motrin, Advil) and naproxen (Aleve, Naprosyn) — can also raise blood pressure. The take-home message? If you need a pain reliever, take the lowest possible dose for the shortest possible time.
Image: © Dejan Marjanovic/Getty Images
Disclaimer:
As a service to our readers, Harvard Health Publishing provides access to our library of archived content. Please note the date of last review or update on all articles.
No content on this site, regardless of date, should ever be used as a substitute for direct medical advice from your doctor or other qualified clinician.
You might also be interested in…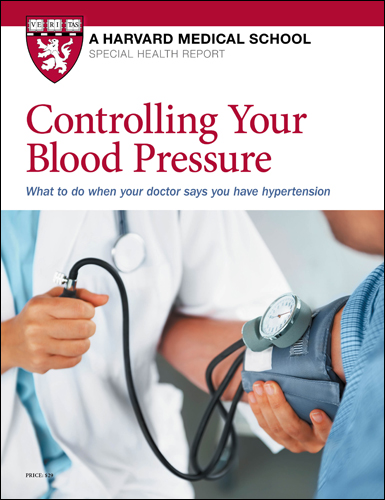 Controlling Your Blood Pressure
An alarming one in three American adults has high blood pressure. Known medically as hypertension, many people don't even know they have it, because high blood pressure has no symptoms or warning signs. But when elevated blood pressure is accompanied by abnormal cholesterol and blood sugar levels, the damage to your arteries, kidneys, and heart accelerates exponentially. Fortunately, high blood pressure is easy to detect and treat. In the Special Health Report, Controlling Your Blood Pressure, find out how to keep blood pressure in a healthy range simply by making lifestyle changes, such as losing weight, increasing activity, and eating more healthfully.
Read More
Free Healthbeat Signup
Get the latest in health news delivered to your inbox!