Listening to your favorite music may relax your arteries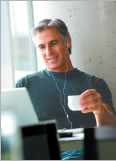 Music has charms to soothe a savage breast, as the 17th-century poet William Congreve wrote. In fact, music might soothe your heart by relaxing your arteries, a small study hints.
Researchers measured arterial stiffness in 20 healthy young adults before and after they listened to 30 minutes of classical music, rock music, or nothing (as a control). They used a technique called carotid-femoral pulse wave velocity (PWV). This measures the time it takes for the pulse to travel to the carotid artery in the neck versus the femoral artery in the leg. Longer pulse times suggest stiffer arteries, which translates to a higher risk of cardiovascular problems. Higher "wave reflections" (another measure of artery health) are also linked to heart disease risk.
To continue reading this article, you must
log in
.
Subscribe to Harvard Health Online for immediate access to health news and information from Harvard Medical School.