Height and heart disease: A genetic connection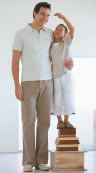 Shorter people are more likely than taller people to have clogged heart arteries. New research suggests that part of the reason for this long-held observation lies in our genes.
Earlier research identified 180 spots on the genome that vary according to a person's height. For the new study, researchers scrutinized the genes of nearly 200,000 people to see whether those with genetic traits for short stature also had a higher risk for heart disease. For a person who is 2.5 inches shorter than average, the risk of heart disease increases by about 13.5%. The shorter a person is, the greater the effect. A small number of the height-related genetic variants had clear connections to heart disease, such as links to some genes that affect levels of artery-clogging fats in the blood. But these accounted for only a third of the effect. That means that most of the heart disease risk related to being short is tied to other factors that remain elusive. The findings appeared in the April 23, 2015, New England Journal of Medicine.
To continue reading this article, you must
login
.
Subscribe to Harvard Health Online for immediate access to health news and information from Harvard Medical School.