Chest pain that's not a heart attack
Ask the doctor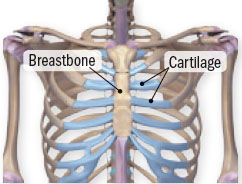 Q. My brother went to the emergency room because he thought he was having a heart attack. Instead, he was diagnosed with costochondritis. What is that?
A. Costochondritis is caused by inflammation of the cartilage between the ribs and the breastbone, called the costosternal joints (see illustration). This uncommon condition can trigger a stabbing, aching pain that's often mistaken for a heart attack.
To continue reading this article, you must
log in
.
Subscribe to Harvard Health Online for immediate access to health news and information from Harvard Medical School.