What is a hiatal hernia?
Ask the doctors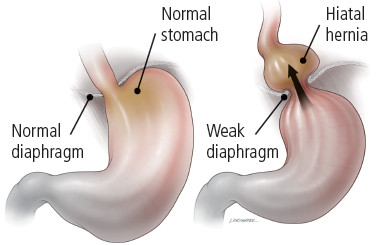 Q. My partner just got diagnosed with a hiatal hernia. What is it, and is it dangerous?
A. Hiatal hernias are very common. They occur when part of the stomach pokes through a natural gap (called a hiatus) in the diaphragm, which is a muscle separating your chest from your abdomen. Normally the esophagus connects with the stomach through this hole, but in some cases, the upper part of the stomach slides upward through the hiatus. The most common cause is weakened musculature that surrounds the hiatus, which can be aggravated by straining during bowel movements, intense coughing, pregnancy, or heavy exertion.
To continue reading this article, you must
log in
.
Subscribe to Harvard Health Online for immediate access to health news and information from Harvard Medical School.