Harvard Health Blog
When dying is a rebirth
By

Linnea Olson

, Guest Contributor
Follow me on Twitter @1111linno
My life is extraordinary. Such a hyperbolic-sounding statement and yet, in so many ways, so very true.
Extraordinary because a decade ago I was told I had three to five months left to live. Diagnosed with non-small cell lung cancer (NSCLC) three years earlier, the removal of most of my left lung followed by chemotherapy had done little to slow down the cancer. Too diffuse for radiation, we had run out of options.
And so, I did what the dying do. Grieving as preparations began, I bid adieu to friends and family, held my children even closer, and sought the help of a thoracic social worker. The day I walked through her door, my first words were, "I need you to help me learn how to die."
Life can be so strange, so surprising. I never thought I'd be diagnosed with lung cancer at the age of 45 and that I'd be facing death at 48. But the biggest surprise was yet to come.
Obviously, I didn't die. Just in the nick of time medical science intervened, as I was found to have a newly identified driver in lung cancer, an ALK (anaplastic lymphoma kinase) mutation. On October 1, 2008, I became the fourth person in the world with NSCLC to enroll in a first-in-human trial targeting ALK. And, to all of our surprise, I had an amazing response.
In the years hence, I have returned to chemotherapy, but also enrolled in two more phase I clinical trials. And life has gone on. My youngest child was only 7 when I was diagnosed; two years ago I had the immense privilege of seeing him graduate cum laude from Phillips Exeter Academy. He is now in his second year at MIT, and my other two adult children are thriving in both their relationships and careers.
Four years ago my own marriage ended, in no small part because of the differences in the way we approached my cancer, which, though still considered terminal, had also become a chronic illness.
Living alone has had its challenges, but I can truly say that I have never been happier. For the first time since my early 20s, I am focusing on my own goals. Upon leaving my marriage, I moved to a converted mill housing a community of creatives. I call it the art dorm, and my loft the art fort. I recently had my first solo art show, and it was a big success. It is safe to say I'm on a creative roll. I am also working on a book (or two), a DIY MFA (that's another blog post), and I devote more time than ever to patient advocacy, with a focus on clinical trial participation and medical research.
Last year a little white Shiba Inu came into my life — a rescue that I actually helped rescue — and we walk several miles every day. Five months ago I also started online dating and, contrary to the experience of many, I'm having a blast. I attribute that to my extraordinary (yes) self-confidence and my willingness to go all in, without regard to being hurt. These are qualities that I did not possess prior to my diagnosis with cancer.
It's such an odd and unexpected paradigm — living with a terminal illness. The downsides are obvious, and yet I have learned so very much. Forced to face my greatest fears, I have become far more courageous; in fact, there is little I fear now. This means my anxiety has gone way, way down and my ability to enjoy life way, way up. Because I have learned to sit with uncertainty, I am no longer married to outcomes. It's all good. I liken this to loving/living life unconditionally; I simply cannot be disappointed. Each new morning is opened like a present — a gift I simply did not expect to receive.
Perhaps it is this awareness that has sharpened both my perception and my appreciation; I refuse to waste a moment. And although I would prefer to not have an illness that is terminal, I would wager that I am infinitely more alive than many who do not.
About the Author
Disclaimer:
As a service to our readers, Harvard Health Publishing provides access to our library of archived content. Please note the date of last review or update on all articles.
No content on this site, regardless of date, should ever be used as a substitute for direct medical advice from your doctor or other qualified clinician.
Comments
marcos souza
April 29, 2018
I'm honored to know you. You are truly an inspiration and a teacher!
Linnea…thank you so much for sharing your amazing story. I am at the beginning (18 months in) of my journey as an ALK +, non smoker with Stage IV lung cancer. I've learned to tap into my inner strength and live each day as if it's my first vs my last. I'm working full time, serving on Boards and traveling, so the time is a gift. I do hold those close to me a little tighter, kiss my puppies more frequently and dare to stay active and engaged, pushing "limits"every day. Perhaps I have learned how to live life! Your story affirms that my journey may be a long one and I thank you for that!

Best,

Laura
Debbie Bartlett
April 19, 2018
What an amazing story and journey. I am so happy for you.
I was diagnosed with adenocarcinoma (NSCLC) in late December. I had a upper left lobectomy at MGH in early February. I had two tumors and was told I had stage 3 cancer. I was told throughout the imaging, biopsy and pulmonary testing that it was early stage. When told stage 3 after surgery, I was in shock. But, drs said they were still waiting for genetic testing because tumors, although both adenocarcinoma, there might be some genetic difference, which would mean two stage 1 tumors, because there was no spread to lymph nodes. Well, news finally came last week that indeed the tumors were grown from different cells, which meant no matastasis. No chemo at this point, but scans every 90 day, because I have a ground glass nodule in my right lung and two tiny ones, not seen in previous scans.
I read your article in O magazine, and actually learned that we are neighbors. I live in Belvedere.
I love reading your blogs. They are very inspiring!!
Patricia Mortensen
April 12, 2018
What a lovely story and what a lovely attitude – all the best to you from Patricia Mortensen in New Zealand.
Linnea Olson
April 10, 2018
Louis, I would have had a difficult time with the full bladder thing–I always hated pelvic ultrasounds for that reason. Glad you caught it early though and that treatment was successful.

Linnea
Captain Louis Gorenflo, USNavy (Retired)
April 9, 2018
Linnea: My prostate cancer was discovered by a female doctor in a small Missouri town (900 wonderful people!). She looked at the PSA trend and discovered it was steadily increasing over time. She recommended a biopsy and I did it. It was early stage PC. My wife and I made arrangements at M. D. Anderson in Houston, TX. I chose radiation…..5 days/ week for 12 weeks. One is to arrive with a full bladder and hold it until the daily treatment is done. Then….RUN…..to the Men's Room! This was done in 2002 and by the Grace of God, my loving wife, the female MD, the MD's at MDAnderson and prayer support from many friends. My attitude has been upbeat filled with gratitude from DAY ONE. Loving life fully, Louis PS The letters you share are an additional Blessing.
Laura Holmes
March 29, 2018
A diagnosis is not a person or a life well lived. Your letter to us is a gracious gift. Thank you for the kindness of your generous spirit.
Linnea Olson
April 1, 2018
Hemant Puri
March 27, 2018
Well explained article.Its the saddest truth but one day we all have to leave this planet.Stephen Hawking also mentioned we have only 1000 years to live on this planet.In between we are able to move to another planet only then HUMANITY will exist.

Source:- https://www.theindiannewsupdate.com/2018/03/stephen-hawking-death-news/
Linnea Olson
April 1, 2018
Hemant, it is hard to accept that our time here is limited but that awareness also makes each moment all the more precious.

Linnea
Thank you for sharing your story. How inspirational that you have accepted all of the challenges you have been faced with and are so positive! You are a butterfly! Keep on flying!
Linnea Olson
March 26, 2018
Thank you Julia. Funny/fun that you should use the butterfly metaphor, as that is often how I think of myself.

Linnea
Adele Penkul
March 25, 2018
Shock! Is the only word I can describe my lung cancer diagnoses in February, 2007. Surgeons at Brigham & Women's removed the entire right lung, but I lived through that, chemo and radiation. Thought I was living cancer free until 2013 when diagnosed with metastatic brain cancer (yes, from the lung). Again, Boston surgeons removed it and sent me home. Four years ago I was diagnosed with Stage 1 Breast cancer (unrelated to the lung/brain.) I have opted to take Estrogen rather than surgery (at this point). Everyday is a wonder – every day is a gift – and everyone copes differently, but of this I am certain: tomorrow is promised to no one. Be thankful for good health, love of friends and family, be kind, and if you pray, thank a gracious God. – Adele
Linnea Olson
March 26, 2018
Adele, none of us sees it coming and we also quickly understand that just because we've been struck by lightning once, we are not immune to being struck yet again. Congratulations on the fact that you are not only still standing, but that you've held onto your joy. Continue hanging on.

Linnea
Bunny Bialek
March 24, 2018
Dear Linnea,
Would it not be incredible if your attitude could be just taught to those in the much older generation who no longer think that LIFE is still with them and that they CAN enjoy it? Just let them see what a fabulous individual can do with whatever time there is!
Thank you Linnea. I totally agree with your outlook and wish you a continued very fulfilling life always! I am 91, still work and do almost everything I wish to enjoy!
Linnea Olson
March 24, 2018
Bunny, your comment made my night—thank you! And keep on doing those things you love (or, loving the things you do!).

Linnea
Norrie Buxton
March 24, 2018
Linnea Olson
March 24, 2018
silvia stantic
March 24, 2018
Amazing, incredible, fantastic ! !
An example to all us who complain constantly, Best wishes to you !

Silvia
Linnea Olson
March 24, 2018
Knowing death is coming can make us fearless. And death is near for us all.
Linnea Olson
March 24, 2018
Penny, well it is certainly waiting for us all.

Linnea
Really inspiring! Thank you for sharing your story!!
We are only have this day!
Linnea Olson
March 24, 2018
Thank you, Meredith!

Linnea
So inspiring and an incentive to even those without your prognosis to approach life as an experience to be savored every day. Thank you for sharing and being a source of inspiration to many others.
Linnea Olson
March 23, 2018
Thank you Nan. You are correct–it doesn't take being smacked upside the head with cancer to wake up and appreciate life.

Linnea
I give this person so much credit. A real inspiration I wish I could meet them
Linnea Olson
March 23, 2018
Sylvia Ferro
March 23, 2018
Excellent and inspiring!!!
Linnea Olson
March 23, 2018
Dear, Linnea,

I have to admit, I was a bit scared to read this. Your experiences with a terminal illness hit close to home and maybe I didn't want to admit to my own reality. But I'm glad I read it. I was diagnosed with a non-cancerous brain tumor at 29 (was told it could cause infertility and blindness if untreated). Around that time I was struggling with losing my partner, my business, and had 2 family deaths in the same month. As a result, I faced depression and awful headaches for over 2 months! I now look back at my situation/story and say to myself, and others, if it weren't for my health condition, I wouldn't have gotten rid of most of the choices, thoughts, and relationships that were keeping me stuck for so long. And I also think that had I been diagnosed with a cancerous brain tumor, where would I want to be, what would I want to be doing career-wise, and who would I want to be with? Keeping that in the back of mind, I try to do the things that I enjoy as much as possible and do things to improve my health.

When I feel hopeless, I remember my grandfather's story. He had two heart attacks in his 40's and 50's. After his 2 heart attack, he was told he would die in 3 months without quadruple by-pass surgery. He refused the surgery and instead changed his diet and began exercising. He's now 84 and going strong!

Wishing you well as you recover and live your life, as you seem to be living it!

Sumera
Linnea Olson
March 23, 2018
Sumera, thank you for sharing your own story and that of your grandfather. We really never can predict how things will turn out but if given the opportunity, we can learn and change our behaviors. I too feel fortunate that I have been given this time for personal growth–sadly, not all are.

Linnea
Kamran Bigdely
March 26, 2018
Dear Sumera

Doctors told my father-in-law that he needs heart surgery otherwise he would die. He refused and instead decided to change his diet and pray to God. After 3 months, he died.

Not really an inspiring story. You should have very strong reasons not to listen to your doctors.

My story is almost never told because it's not 'inspiring'. But your story is probably has been told by many family and friends several times. Because yours sounds inspiring (By the way, that is called 'survival bias'. )
It's so inspiring, my sister in-law died of lung cancer 2 years ago. I always try to read more about it after she was diagnosed. I really happy reading your post.
Linnea Olson
March 23, 2018
Neena, thank you. I am sorry for the loss of your sister in law.

Linnea
Sandy Ellsworth Gridley
March 23, 2018
Thank you! I was diagnosed with lung cancer 3 years ago during an MRI looking for a reoccurrence of breast cancer. Lucky for me it was very early and a removal of the upper lobe of my left lung got it all. Naturally I'll be looking for a recurrence every year. It reminds me that nothing is forever,
Linnea Olson
March 23, 2018
Sandy, the irony is that life is all the more precious because it is not forever. Those of us who have been diagnosed with cancer are forced to reckon with mortality and I believe it sharpens our everyday appreciation of life.

Linnea
Gail Lemaire
March 22, 2018
What an inspiring blog post. It relates to what people think about you, perfectly! Always enjoy reading what and how you write about our LC Survivor's lives. You're an inspiration of grand proportions! Thank you.
Linnea Olson
March 23, 2018
Carolyn conner
March 22, 2018
Hi Linnea,
I started reading your blog about five years ago when a close friend of mine was diagnosed with lung cancer. I happened upon your blog then and have been hooked since. My older brother later in 2014 was diagnosed with lung cancer. Both my friend and brother have since passed away. Neither tested positive for the gene that could be targeted with the new meds. I've often wondered if they might have lived a little longer, however if they had your ability to live snd love and appreciate every day. Congratulations to all of your successes and thank you for always being so enlightening! God bless, Carolyn Conner
Linnea Olson
March 23, 2018
Thank you Carolyn and I am sorry for the loss of both your friend and your brother. It is frustrating to see progress against cancer that is not personally relevant—just another way this disease is so unfair. Sadly, attitude can make our stay here more pleasant, but I harbor no illusions that it can stave off disease, as I have seen some incredibly strong/positive people taken.

Linnea
That is inspiring
More so bc this isn't a movie, its real people showing the way
I'm grieving at the one year mark of my husband's death.
He just wore out. So I've allowed my self to stay in bed and watch Laverne and Shirley bc laughter is good medicine.
I might take a look at dating,thanks to your blog.
Heather Hogan
March 22, 2018
Life is so easy when things go your way but having this disease turns your world upside down. My doctor had me convinced that I wouldn't still be here but it has been through your words and the lives of so many others who have taught me that no one knows our expiration date.
The word you have done, so publically, to advocate and educate others about lung cancer is truly inspiring, helping guide me to add my voice for the cause.
Although I don't sit and worry about my disease every moment of every day, I can't say it doesn't ever creep into my thoughts. That's why I need to read about you and your story whether on line or in a magazine. It is a story of hope and life.
Thank you,
Heather Hogan
Linnea Olson
March 23, 2018
Heather, hope carries us over those impossible places. And knowing/understanding that we are not alone sustains us as well.

Linnea
Gina Hollenbeck
March 22, 2018
Linnea,
I love your perspective. I feel the same way. I'm not afraid to die now- it's empowering. I'm also not afraid to live!!- it's amazing!!
Linnea Olson
March 23, 2018
Gina, there is something to be said for living on the edge and that fearlessness is certainly one thing. Live without hesitation!

Linnea
Adam Stern
March 21, 2018
Just want to say that this post spoke to me in so many ways. Thank you so much for sharing it.
Linnea Olson
March 21, 2018
Thank you for sharing as well Adam.

Linnea
I aspire to live this way, and I'm getting there. Thank you for continuing to share you world.
Linnea Olson
March 20, 2018
Jackie, if you aspire, you're on that path. We are all a work in progress.

Linnea
Greta Kreuz
March 20, 2018
Excellent, Linnea! I feel this way about 80% of the time. The other 20% also needs to be written about—none of us is super human—but I applaud your bold living and newly embraced mission(s) in life! So proud of you, Sister!
Greta
Linnea Olson
March 20, 2018
Thank you Greta. And you know I don't hold back about the tough times either. If you're batting 800, I'd say you're doing really well.

Linnea
Joan Zimmermann
March 20, 2018
Wonderful words that all of us might do well to live by.
JMZ
Linnea Olson
March 20, 2018
Sharon McBride
March 20, 2018
I think you would win that wager.
Linnea Olson
March 20, 2018
I think so, Sharon 😉

Linnea
Lynda Novak
March 20, 2018
THANKYOU FOR SHARING THIS….I so enjoyed reading it. Love, Lynda…xo
Linnea Olson
March 20, 2018
Marc Mannheimer
March 19, 2018
Linnea, Knowing you is an ever enlightening adventure and a learning one. You have taught me to be more open and resilient, I am trying… Your awareness of things that I might momentarily focus on but not investigate in-depth have shown me that everything and anything can be amazing as well as a source for communication. Your recent Art works are a clear demonstration of this fact and a manifestation of how you live your life, open, aware and accepting.
The on-going battle with your illness is one I see you fight in numerous ways, humorous, dynamic, fearlessly and creatively. I feel honored and humbled by so much that you do. I am very proud to be your friend and in your battle with you as best I can!
Linnea Olson
March 20, 2018
Marc, thank you. For your kind words and our precious friendship.

Linnea
Linnea, so much of what you wrote is true for myself and for so many others I'm sure. I've told my friends that I have been given a gift. Stage IV lung cancer does that, I see things differently, I'd like to say I'm better than before this diagnosis. Thank you for sharing your story and for inspiring so many others, you are amazing!
Linnea Olson
March 20, 2018
Thank you Dawn. It's a gift none of us wanted but our ability to persevere is what turns the ugly on its head.

Linnea
Andrea Borondy Kitts
March 19, 2018
Thank you for your post Linnea. When I lost my husband to lung cancer, what I feared most in life had happened and I, similar to you, lost my fear. You are the embodiment of living in the moment. You are a wonderful role model for everyone and the lung cancer and patient advocacy community is so very fortunate to have your passion and knowledge. You rock!
Linnea Olson
March 20, 2018
Well Andrea, you know I would use all those adjectives to describe you. We have had so much that is precious taken and yet we are healing ourselves anyway. Amazing.

Linnea
Did you take that photo Linnea? I love it and can totally relate to it along with your words! Thanks again for being the voice for so many of us. You rock! I love you girl!
Linnea Olson
March 20, 2018
Sandy, the photo's not mine but it's perfect! And I love you too!

Linnea
Denise Cutlip
March 19, 2018
Your words have always had a way of inspiring me to do more and be more. To think that, but for our freaking cancer diagnoses, we would never have met. When we talk about the gifts cancer brings us, it's you and advocates like you who have been the biggest surprises of my life.
Linnea Olson
March 20, 2018
Denise—that's the real gold in our situation. Our bodies have been invaded and yet we've found the strength to open our hearts to each other. I too never guessed I would come to care for/feel connected to so many. It is an immense privilege.

Linnea
Kathy Cormier
March 19, 2018
Linnea, you do us all proud with your strength. Your arcticle is so positive and letting us all know all the bad with the good. Keep it up, your such an inspiration. Kathy
Linnea Olson
March 20, 2018
Lee Watkins
March 19, 2018
Such an inspiration to everyone regardless of physical health issues or numerous other problems of life. One thing I find amazing is I have not seen a picture of her in which she is not smiling including the one on her blog. She has advocated for cure included trails with unknown results and given love warnth and support to the large lung cancer patients and their families
Linnea Olson
March 20, 2018
Thanks sweet cousin 🙂

Linnea
Doris Castevens
March 19, 2018
Linnea,
Your words are so powerful! I always feel uplifted when I read your articles. Thanks for being such a positive force in the lung cancer community. You give many the Hope they need to learn to live with a terminal diagnosis.
Doris
Linnea Olson
March 20, 2018
Thank you Doris. Hope is sometimes all we've got—it needs to be nurtured.

Linnea
Kristen Kimball
March 19, 2018
Linnea, I never can wait to read whatever your next thing is – so here I am at working reading your words once again! And once again, loving them. Thank you for your attitude, your wisdom and your humor. Now I cannot wait for those books!
Linnea Olson
March 20, 2018
Kristen—thank you for your kind words and those books are coming!

Linnea
Sonya Atkins
March 19, 2018
Linnea,

Congrats on living a full life! So glad you are able to open up to the masses and them know that cancer is no more a death sentence; no one knows what happens in 10 yrs. hopefully we will all be around to hear about it. I am a stage 4 survivor w Ned. Just got my port out. Building my body back from what the treatment cost my body. Bones and teeth are fragile. But I am living my life;I went on a dating site too! Now I have a mate. my son got married and the other is in vet school; I am taking guitar lessons and riding horses and traveling . Keep on keepin on.
Love and strength to you,
Stargrl 1019
Live,love
Linnea Olson
March 20, 2018
Sonya, live love is my credo 🙂 Congrats on losing that port and gaining NED. And that mate, too!

Linnea
Linnea, what a wonderful piece! This really hit home for me: "Because I have learned to sit with uncertainty, I am no longer married to outcomes. It's all good." Thank you!

Amy
Linnea Olson
March 20, 2018
Peggy Dennis
March 19, 2018
As always Linnea, you give us a glimpse of what is possible if we are open to the opportunities presented. Your story continues to be an inspiration as I travel my very own lung cancer path. Thank you for your willingness to share your dedication to living life largely!

Peggy
Linnea Olson
March 20, 2018
Peggy, it's go big or go home 🙂 Here's to living large!

Linnea
Judy Kasey Houlette
March 19, 2018
Linnea,

Beautifully expressed, as always. I am honored to know you.

Judy
Linnea Olson
March 20, 2018
Thank you Judy. The feeling is mutual 😉

Linnea
Kathy Clark
March 19, 2018
As always, love your perspective and authenticity.
Linnea Olson
March 20, 2018
Denise Brock
March 19, 2018
You are truly an inspiration and a teacher! For us all. Thank you Linnea.
Linnea Olson
March 20, 2018
Linnea, thanks for this piece. You inspire me and articulate some of my feelings and thoughts so well! I also feel (6 1/2 yrs post stage 4 LC dx) that I have to make the most of every moment, day, week, month! I do rest when I need to and I do housework too, but many of my decisions are made with the knowledge that life is precious! Take care, keep smiling and creating and living! Deb
Linnea Olson
March 20, 2018
Hey Deb—we certainly do become cognizant of how precious it all is. Keep on keeping on 🙂

Linnea
Melissa Burton
March 19, 2018
I too have stage 4 lung cancer and i'm participating in an immuno therapy trial at Dana Farber. It started stage 3, i had surgery, chemo and radiation and unfortunately it spread very soon afterward. I was diagnosed when I was 48 years old and in excellent physical shape. My daughters are 18 and 16 and my marriage is hanging in there. I am now 50.
Although i now try to stay away from most on line groups, your story and words are so inspiring i think you are the only one I follow. I love how you embrace life each day. Like you, i have been through so much (for me it's been a short period of time) that there is not much that i'm afraid of these days and that does lessen anxiety. (I had a root canal recently and the oral surgeon said i was the only patient he had ever seen that didn't even flinch when given a shot in the roof of my mouth).
Like you, I am hopeful treatment will keep my disease in check until a cure can be found and until then, keep on keeping on. Please continue your messages of hope and inspiration.
Linnea Olson
March 20, 2018
Thank you Melissa and I hope your trial produces positive results. You are a tough cookie (shot in the roof of the mouth!) but all these things we go through are, in another light, tremendous opportunities for personal growth. Stay strong and hopeful.

Linnea
Shelly Allen
March 19, 2018
"Each new morning is opened like a present". I am going to use this saying when I talk with people about my cancer. It is so appropriate! I am blessed to be alive!
Linnea Olson
March 20, 2018
Shelly, we can help others to see/appreciate this gift through our own continuing awareness.

Linnea
Mary Connell
March 19, 2018
Linnea
Reading your powerful words always make me feel so much better. I am, by nature, the polar opposite of you. I am an introvert, pessimistic, reserved, not very brave in the face of adversity. Thank you for saying all of the "right" things. You give me hope and strength.
Mary👍😍
Linnea Olson
March 19, 2018
Be strong and hopeful Mary. I could not have been a more anxious, pessimistic child but I knew it was making me miserable. As we understand only too well, life is short and we need to make it as sweet as possible.

Linnea
Linda Salvati
March 19, 2018
Hi Linnea!!
JUST AMAZING LIFE YOU ARE LIVING!!! You are one of my mentors on how to live with a lung cancer diagnosis. I want you to know, your blogs are often emailed to my 4 sisters, one brother, my Dr. McKenna, my work out trainer, Scott, and so many more people. I like to share important stories of strength and leadership. The first and only time I met you was in Colorado at a Lung Cancer 4 day seminar. Part of the focus of the seminar was to be educated as to why it's important to not answer the question, when asked by others, if we were smokers. You stood up and said something to the effect that you do not like cigarette smoke and you have never smoked.
I remember that because I feel the same way, and I do understand what the organization was teaching about humanity.
On my list of advocacy projects to be done, I would love to do a PSA series of billboards with images, (shot more professionally of course) highlighting the cigarette packages I saw in Cancun Mexico!! Mexico is light years ahead of the US when it comes to visually showing what cigarettes are all about. Please forgive my digressing! Congratulations to you finding your beautiful new place in life!

/Users/linda/Desktop/Cigs from Mexico.eml
Linnea Olson
March 19, 2018
Thank you Linda—I am honored by all the sharing. My relationship to the question of smoking has evolved with time and I seldom mention my non-smoking status any longer, as I feel it only perpetuates stigma.

Linnea
Linnea, you continue to inspire us all with your fearless advocacy, creativity and insights into what makes a life well-lived. So glad you have this new forum to reach more people who can benefit from your unique point of view.
Linnea Olson
March 19, 2018
Julia Gaynor
March 19, 2018
This is so beautiful. You are a complete inspiration.
Linnea Olson
March 19, 2018
Marie Hazelton
March 19, 2018
Such an inspiration you are to all of us. I too am an ALK thriver coming up on 3 years in May. So many changes, lessons and silver linings 💖💖
Linnea Olson
March 19, 2018
Congrats on three Marie, and keep em coming.

Linnea
I can relate to that Linnea – Keep on living – Keep on enjoying – Keep on keeping on
Linnea Olson
March 19, 2018
Oh Tom, I plan on doing all three.

Linnea
Lysa Buonanno
March 19, 2018
I'm honored to know you. Your beautiful soul and love of life makes the world better. Thank you
Linnea Olson
March 19, 2018
Thank you Lysa. And you know I feel the same way about you.

Linnea
Mark Story
March 19, 2018
Hi Linnea,

Remember me, Mark, formerly of NCI (sadly)? I think about all of the wonderful people I met virtually there is my tenure and you are at the top of the list. I miss my work in the cancer field so much.

I am glad to hear that you are just plain living life. I too went through a divorce not too long ago and my journey was tough enough – but managing a terminal illness at the same time? Not sure how you did, but I am delighted to hear that life has also given you some nice surprises.

All the best,

Mark
Linnea Olson
March 19, 2018
Mark, thank you and of course I remember you. Lots of water under our bridges both personally and as a nation since then. But we all keep on doing that thing we do—persevering. Good to hear from you!

Linnea
Linnea, you are definitely more alive than most! Thank you for sharing your story, along with how you deal with uncertainty. I aspire to be as fearless and creative as you are!
Linnea Olson
March 19, 2018
Jim Pantelas
March 19, 2018
Well written and well lived. We will all die, but, if it's not to be today, why not live today fully?
Linnea Olson
March 19, 2018
Hey Jim, we know a fair amount about living large, don't we.

Linnea
It has been wonderful to get to know Linnea when I also lived in the converted mill building for artists. She is a bright light to this world! Many thanks to those who helped keep her in this world for us to get to meet her.
Linnea Olson
March 19, 2018
Lois, good to hear your 'voice'! And thank you for the kind words.

Linnea
Inspiring as always Linnea!
Linnea Olson
March 19, 2018
Wow, that is beautiful and very impactful! Pray you keep thriving and living for many many years to come! God Bless you!
Linnea Olson
March 19, 2018
Commenting has been closed for this post.
You might also be interested in…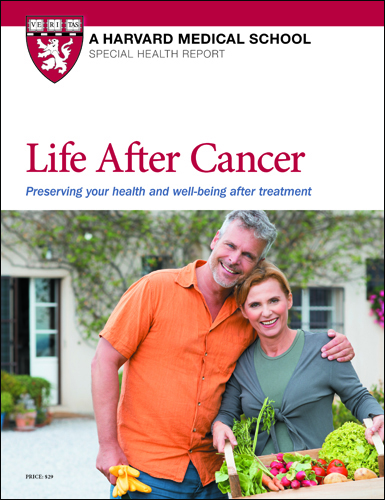 Life After Cancer
This Special Health Report is designed to guide you through the next stage of your cancer journey. It will walk you through many of the issues you'll face in the upcoming months and years—the long-term and late effects of your cancer and treatment; the potential for a recurrence or new cancer; the emotional, occupational, and financial issues you'll potentially face; and the implications for your family and friends. You'll learn how to readjust to the life you may have put on hold during your treatment, transitioning back to your full work and home life. And you'll learn ways to maintain your health to prevent new problems, including cancer, from taking hold again.
Read More
Free Healthbeat Signup
Get the latest in health news delivered to your inbox!