Cancer
A more precise approach to fighting cancer
If you are like me, when you get the flu you head straight to the pharmacy and grab the most powerful over-the-counter medicine you can find. But is that really the best approach? After all, your condition, symptoms, and reaction to the virus may be quite different from someone else's, so why use the same medicine? Instead, you may benefit more from a treatment specifically designed just for you and your ailment.
That's the philosophy behind precision medicine (sometimes referred to as personalized medicine), an approach to cancer prevention and treatment that takes into account a person's genes, environment, and lifestyle and eliminates the one-size-fits-all concept.
"As you get older, you are more likely to battle diseases and ailments, like cancer, and you do not want to waste your time with trial-and-error treatments that may not work and could expose you to various side effects," says Dr. Paul Avillach, assistant professor of biomedical informatics at Harvard Medical School. "Precision medicine can help take out the guesswork."
The principle behind precision medicine
It works like this: doctors rely on family history, lifestyle habits (like diet, exercise, and smoking), and environmental factors (such as where you grew up and where you now live) to determine if you're more likely to get certain forms of cancer. This can help create preventive strategies like adopting a healthier diet and increasing screenings.
If you have a family history of cancer, a genetic test can help clarify whether you inherited a specific genetic mutation. This involves taking a sample of either blood or saliva to look for mutations in several genes related to certain cancers.
If you are diagnosed with cancer, doctors can use genetic testing on tumors in order to find the best possible drug treatment. Tumors have genetic changes that cause cancer to grow and spread, and researchers have learned that the changes that occur in one person's cancer may not happen in other people with the same type of cancer.
For genetic testing of tumors, doctors remove a sample of the tumor tissue and a machine called a DNA sequencer looks for genetic changes that may cause the cancer to grow. With this information in hand, doctors then try to match the cancer with existing drugs.
"With a tumor's genetic profile, we can screen 1,000 different drugs to see which ones might work best," says Dr. Avillach.
This way, a person is less likely to receive a drug that may not work or causes severe side effects, like blood clotting. That, in turn, cuts down on the odds of having to start treatment over again with a new drug.
Practical applications of precision medicine still evolving
Despite its name, precision medicine is not yet as precise as it should be. A study published Oct. 19, 2017, in BMC Medical Genomics suggested that genetic targeting for cancer therapy is more accurate for people of European decent and less so for those whose ancestry is Latin American, African, or Asian. Another downside: genetic testing for cancer treatment is practiced mostly at larger research hospitals and cancer centers and thus is not available everywhere.
Still, for some, it can offer a better way to prevent and treat possible cancer.
"Precision medicine is only one added element in an ongoing equation," adds Dr. Avillach. "It's not the solution to everything, and it won't replace the testing and treatments currently in place, but it can help to get a more targeted answer for some."
Disclaimer:
As a service to our readers, Harvard Health Publishing provides access to our library of archived content. Please note the date of last review or update on all articles. No content on this site, regardless of date, should ever be used as a substitute for direct medical advice from your doctor or other qualified clinician.
Comments
Margaret Johnson, MD
December 24, 2017
This is the second message I've written to Thomas Turk — apparently the first one was deleted! I wondered if you could provide a reference or link to Dr. Robert Good's "natural, diet-based enzymatic cure for pancreatic cancer"? I am a physician who did all my training at the same institution as Dr. Good (Univ. of Minnesota).. Bob Good was in the same medical fraternity as my father and they were contemporaries. My father was a professor (MD, PhD) at the U of MN Medical School and, unfortunately, both he and Bob Good are no longer alive… Otherwise, I'd ask my father to talk to him about this "cure" for pancreatic cancer… Although I'm not usually a proponent of so-called "natural" or "alternative" medical cures, I am interested in finding out more about Good's therapy for this type of cancer because my husband was just diagnosed with pancreatic cancer that had already metastasized to his lungs, with a very large left pleural effusion… As you undoubtedly know, there aren't any modes of therapy that can reliably produce survival outcomes of more than several months for patients with metastatic pancreatic cancer… I have tried to look up as many of the clinical trials currently being carried out in the U.S. as I can find online – but, thus far, haven't found anything that looks promising. My husband is currently waiting to see if he will qualify for the "Halo clinical trial" which is comparing the results of giving, sequentially, two types of standard chemorx drugs (gemcitabine and nab-paclitaxel) with or without hyaluronidase.. ,This trial is trying to determine if the hyaluronidase addition will augment treatment of this difficult cancer. Since pancreatic cancer often has an associated dense fibrous stromal background (which is a stumbling block for effective treatment, making it very difficult for chemorx to reach the malignant
pancreatic duct cells), the thought is that if the dense stroma can be eliminated or diminished significantly by using hyaluronidase to attack the hyaluron component of the stroma, then perhaps better results will be possible with the chemorx. For eligibility in the study, there must be >50% stroma visible in histologic slides of the tumor. My husband had an endoscopic biopsy of his tumor a couple of days ago – and we are waiting for the determination of the central reference lab for the study as to his potential eligibility… I have been trying to cast as wide a net as possible, looking at as many monoclonal antibody, biological agent, or other treatment modalities as I can — and, therefore, would be very grateful for any information you can give me! My email address is: pjpj1838@gmail.com
Thank you very much for your help!
M. Johnson, M.D.
Macharia
December 20, 2017
Medicine despite its sophistication has failed. Going to moon strategies will only benefit the pharma industries. Can't this energy be channelled to cancer prevention ???? Or profits supersedes human life?????
Kitchil
December 19, 2017
Why not focusing on finding the root cause of the cancer? Why we human have failed so far to find prevention. The modern medicine has failed so far to find vaccines for cancer prevention.
Thomas Turk
December 22, 2017
KichIil.. it's been found and here's the story why they cannot tell.

The Russian/Canadian biologist H R Clark, PhD N D, using her patented resonance device, (Synchrometer) carried out over 1/2million reproducible, so scientifically valid tests to identify the causes and pathways of ALL cancers. The many cures today interrupt those pathways. (The Cure and Prevention of All Cancers,2007, H R Clark prevents 99% and cures most). I have no financial interest in Dr. Clark but have used her protocols, zapper and Synchrometer on friends and family since mid 90s.

The fact that Dr Clark's works have NOT been 'officially published' in any Medical or Science Journal makes it ILLEGAL for the doc to even mention her work, let alone cure you with it! How does Cancer Inc prevents 'official publication' of the cures to protect it's annual 1/3T$ Industry.

In the US in the mid 1980s, Dr Robert Good.. then leader in immunology, with the world's first bone marrow transplant and with over 2000 medical research papers published, discovered the natural, diet-based, enzymatic cure for pancreatic cancer. He was refused publication in all Medical Journals. The Journals informed him that his cure 'doesn't fit in with the concepts of this time'.

In the UK, the 1939 UK Cancer, valid today(!), Act PROHIBITS the publication of any cancer cure. It also PROHIBITS discussion of cancer cures among any persons apart from Reg. Med. Docs! In the UK. I would be in trouble for this comment!

The cancer cures are in: Dr. Clark's protocols. The Zappers of Drs Clark, Rife and Beck. Herbs by Hoxey, "the quack who cured cancer". He was arrested over 100 times, more times than any other medical practitioner, but his Texan prosecutor subsequently became his attorney after Hoxey cured his brother of cancer)! Germany's ozone, (that cured Pres. Reagan's lung cancer). Dr. Burzynsksi's secret formula in Texas. Cannabis oil. Turmeric. Papaya leaf tea. Sunderlandia , (the S African Cancer Bush), Essiac, (that cured the terminal bone cancer in Sen Ted Kennedy's son in a month). Yew tip extract. Dr Clark advised to use as many of these as you can get hold of.

UK medical Herbalists have essiac extract.(much more powerful than the original tea), Sunderandia, cannabis oil etc.

Researching Dr Clark you'll come across vitriolic comments that Dr. Clark died of cancer. Even if she did, that does NOT invalidate her 60 years of science-backed work. Yes, Dr. Clark did die of cancer. In her mid eighties, she had her car brake-lines deliberately CUT, she crashed and broke her neck!! She suffered severe pain and was unable to continue testing for her work or on herself. She died of the rare myolemia cancer whose symptoms mimic a severe cold.
Naeem ulfateh
December 18, 2017
It will take some time after having more detailed genomic research into practice and results after its application to a specific patient.

It varies from a person to person so result may come cure after correct diagnostic or malfunction in a body. A long road ahead but not too far.

Muhammad Naeem ul Fateh
Thomas Turk
December 22, 2017
No.. it wont take more time. It'll take for ever if you wait for Cancer Inc's answers. See my earlier comment. Dr Hulda Clark precisely identified the specific causative parasites, bacteria, viruses, molds, heavy metals, dyes, radio-active compounds, food allergens, benzene, asbestos etc and traced their pathways. An interruption of a pathway gets you the results.
Joseph Wysowaty
December 17, 2017
After 13 months of Prostate Removel. What should my psa be
Commenting has been closed for this post.
You might also be interested in…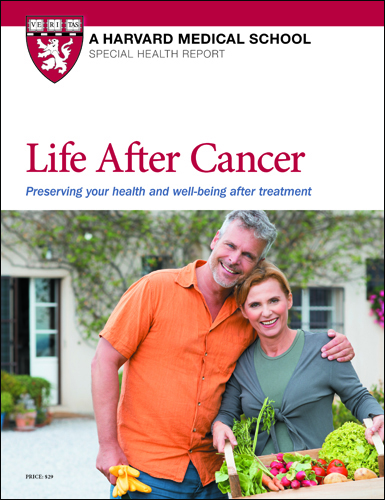 Life After Cancer
This Special Health Report is designed to guide you through the next stage of your cancer journey. It will walk you through many of the issues you'll face in the upcoming months and years—the long-term and late effects of your cancer and treatment; the potential for a recurrence or new cancer; the emotional, occupational, and financial issues you'll potentially face; and the implications for your family and friends. You'll learn how to readjust to the life you may have put on hold during your treatment, transitioning back to your full work and home life. And you'll learn ways to maintain your health to prevent new problems, including cancer, from taking hold again.
Read More