Exercise & Fitness
Exergames: a new step toward fitness?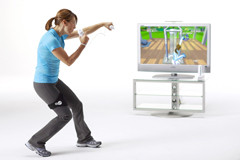 By

Lloyd Resnick

, Former Editor, Harvard Heart Letter
What's the best type of physical activity? One you enjoy enough to do every day. Active-play videogames, also known as exergames, are a high-tech approach to fitness that could help some people become more active and stay that way.
As I write in the March 2012 Harvard Heart Letter, exergames offer muscle-strengthening workouts, balance and stretching games, aerobic exercises and dancing, martial arts, and simulated recreational activities such as golf, skiing, and more. (You can read the full article on the Harvard Health website.)
Current exergames deliver moderate workouts at best. The Wii Aerobics package, for example, gives you a workout that's the equivalent of walking at 3 miles per hour. This won't help you lose weight, but it can give you the kind of moderate-intensity activity that each of us should be doing at a minimum every day.
Some fitness and senior centers are now incorporating exergames into their facilities. For a home system, you'll probably spend about $250 for the basics — console, accessories such as handheld controls or balance board, and software.
Do they work?
The study of how exergames affect fitness and health is still in its infancy. Last year, the American Heart Association (AHA) convened a panel to begin exploring what role exergames may play in health and fitness, especially in people with heart disease or at risk for it. The panel's report, "The Power of Play: Innovations in Getting Active Summit," was published in the journal Circulation.
While that research is underway, some experts are excited that they may have another way to get adults and children moving. "You can become more fit with relatively simple activities, so these games have a lot of potential," Dr. JoAnne Foody, director of the Cardiovascular Wellness Service at Harvard-affiliated Brigham and Women's Hospital, told the Heart Letter.
For now, though, don't let exergames nudge aside your participation in "real" sports and recreational activities. In terms of energy expended and pure enjoyment, the real things are bound to be more healthful and rewarding than electronic simulations.
(Photo courtesy of Electronic Arts Inc.)
About the Author

Lloyd Resnick, Former Editor, Harvard Heart Letter
Lloyd Resnick was editor of the Harvard Heart Letter from August 2011 to May 2012. Before coming to HHP, LLoyd worked for the Massachusetts Medical Society in various capacities, notably as managing editor of HealthNews. A …
See Full Bio
View all posts by Lloyd Resnick
Disclaimer:
As a service to our readers, Harvard Health Publishing provides access to our library of archived content. Please note the date of last review or update on all articles.
No content on this site, regardless of date, should ever be used as a substitute for direct medical advice from your doctor or other qualified clinician.
Comments
I have two nieces who absolutely LOVE their Wii for gaming exercise. Especially during holidays, it seems the whole family joins in and starts sweating.

While I feel that traditional exercise is most efficient and healthy, I do think that gaming exercise is a very good way to get kids interested in being more fit. My brother and sister use their family Wii system as a catalyst to weekend extra-curricular activities, often encorporating Wii exercises into fun, "real-life" experience for the kids. Exercise and fitness should be about having fun and enjoying the fit and healthy lifestyle – so if gaming is the way one would do this, then so be it!

John
Business Newsletter
April 30, 2012
Exergames is the best exercise. Benefits of exercise on mental ability and productivity are in the early stages of research, but indications from using Gamercize with a computer have been reported as providing a 17% productivity improvement.

Newsletter Marketing
What's ironic, is that I just watched a segment on exercise and Wii a couple of nights ago on my local news channel. It was an interesting segment, too!

I think that when it comes to fitness, gaming can definitely be that "entry" that some people need. For kids, it can definitely help spark some interest in fitness. This has actually interested me in writing an article on this over at my fitness blog.
MAYWEATHER VS COTTO LIVE
April 27, 2012
http://mayweathervscottolive.org/ When I was a kid, games like this weren't needed. We pelyad outside from sunup to sundown, and didn't come in the house until our mom called us in for dinner. You don't really see kids playing outside as much anymore no riding bikes up and down the street, no neighborhood kickball games, no playing tag, much fewer playgrounds . The video game in your post sounds like a great way to help today's kids become more active, but it's too bad that they don't have as much outdoor play fun as we did when I was a kid.
Fitness is needed for all classes of people.
I agree with the author that there is nothing as getting good exercise outdoors but when it is raining, or very cold outside. That is the time when video games can make you active indoors. Atleast instead of being a couch potato some physical activity either indoors or outdoors is better than nothing.
I prefer a more intense workout, but for many people these exergames could be great. At least they're off the couch and moving, and that's a good start!

Dan
While the research is underway, I tend to think that anything that gets you off the couch, on your feet and moving is still better than watching movie after movie.
Do I think it will make a huge difference? Only if it sparks
motivation to really change your lifestyle. I struggled with my weight too until I found a program I could relate to. It needs to fit your personality so you stick with it.

–Karen
package shipping
April 13, 2012
Yes, i am also agree with all reply regarding health fitness post above. Health is very important for all the person so that he enjoy the life and feel healthy. When health is not good then person not feel happy and always keep lazy.Tobacco product like cigarette effect -ve on the body and it also causes cancer.

Package Forwarding
I agree with you that exercise in the outside is better than indoor. because we can get air fresh and sunlight that good for our health than indoor without air fresh, sunlight, and the others
I enjoy blog-ging and this site with its physical bias is helpful. My penny's worth for those interested and to just let the world know I am a Zumba freak. Since getting my DVD's and doing hourly sessions daily I have lost 21 kilos. I am fit toned alert happy fun to be with now not grumpy like before. Friends say I was hard to spend time with before and now after my stimulating Zumba sessions..they all want to hang out with me all the time. And my grades have gone up exponentially, true…
Fitness Health
April 6, 2012
Video games may be hazardous to your child's emotional health. Sounds like a warning on a cigarette pack, and justifiably so
Atlanta personal trainer
April 2, 2012
While these are not a substitute for the real thing, they can serve a purpose which is to get people moving around. Taking that small first step can make it easier to transition into a real exercise routine.
Saso Gjorevski
April 1, 2012
It is OK for games to keep our child active and this is good research.
games are good to make your body healthy. I like your post. Its a great research work. Keep it up in future also.

Best Regards,
Jeanette
my kids love these games, and I love that they keep them active.
Dr. Crystal Walters
March 18, 2012
I am elated that Gaming companies have made a major thrust forward to help fight the obesity problem in America. While I prefer a real outdoor workout, these new video games may prove to be effective for many people! I played a Tennis game on a Wii system and actually broke out into a sweat, so there is no question in my mind if it works!
John Williams
March 17, 2012
I have been involved with the health and fitness industries, owned my own gymnasium, and agree that people should be encouraged to more mobile.
Even the smallest adjustment can have a big impact on the well being of an individual.
I do believe that more work should be carried out regarding the ever increasing evidence regarding 'high intensity' training.

john
I also brought a Wii console and Wii fit game. I used it for a while but found that I preferred to use my Sole e35 elliptical trainer
My girls and I love the wii, because it has so much to offer. Being that we hocmsehool our children, alot of the sports games and wii board are a great means of exercise for us all and the beauty of this, is that it is fun, so it doesn't seem like exercise. We are currently using Gold's Gym Cardio Workout. It is a great cardio routine with a wide variety of choices. Before we got the wii, it was always a fight to get my 8 & 10 year old girls to do any type of exercise other than outside play. We look forward to E.A Sports Active.
It may be recalled as the new amedments and invention in field og gaming, as indoor games are going to keep people fit. Best of luck, hope you reach local people as well.
When I was a kid, games like this weren't needed. We pelyad outside from sunup to sundown, and didn't come in the house until our mom called us in for dinner. You don't really see kids playing outside as much anymore no riding bikes up and down the street, no neighborhood kickball games, no playing tag, much fewer playgrounds . The video game in your post sounds like a great way to help today's kids become more active, but it's too bad that they don't have as much outdoor play fun as we did when I was a kid.
Good posting… with exergame, now people still can exercising without need to go out and it make us stay health. Finally, games isn't only for playing but also for make us more moving…
I recently purchased a Wii console along with Wii fit for a friend of mine and her kids. Sadly since they are still young, all they do is play video games all day. I was glad to hear back from her that the Wii and Wii Fit gets used on a daily basis, so at least they get some movement every day.
A Physical activity will changes our lifestyle a head forward among others. The respective blog which aims to provide a healthy life with nature organic way of research.
Edmond Bryant III
March 8, 2012
Is that a private business Exergamng?
Thank you for your interest in exergaming. As you know, obesity is on the rise in America and it is important that everyone is educated about the benefits of frequent exercise. Because it is a relatively new concept, exergaming needs publicity and research to reach its full potential and be as useful as possible in the struggle to help America become healthier. Your time, effort, and findings are greatly appreciated and will likely serve to improve exergaming as a whole.
Motion Fitness is a leader in exergaming, active games, and interactive fitness. Our products go beyond what is sold at retail stores and branch out to the commercial market. Our state-of-the art equipment is used in fitness centers, nonprofits, and schools across the country. We pride ourselves in the way we use technology to keep America active.
If you would like to follow up or have any questions, feel free to contact us or visit our website. We look forward to hearing from you and good luck with future writing and research.
well, let the teachers teach, not floolw a plan the some borrowrat instilled, reading writing math really how hard is it to teach what we were. instead of bull-crap that makes no cents, and why I am on a roll, teach everyone the same thing, not black kids this and white kids that and stop teachers from calling children down because of their color!!! teach people to be smart not an idiot.
Commenting has been closed for this post.
You might also be interested in…
Harvard Heart Letter
Be on your way to a healthy heart. Subscribe to Harvard Heart Letter today. Each month, you'll get easy-to-try nutrition and exercise advice that will improve your heart's health and overall well-being. In Harvard Heart Letter, you'll also read about today's breakthrough medications and treatments as well as advice from Harvard's doctors on side effects, drug interactions, and surgery precautions.
Read More
Free Healthbeat Signup
Get the latest in health news delivered to your inbox!