Harvard Health Blog
COVID-19 and the LGBTQ+ community: Rising to unique challenges
As the COVID-19 pandemic continues, new challenges arise each day for people across the world. Some of these challenges particularly affect the LGBTQ+ community. This unique time calls for LGBTQ+-specific resources and new ways to connect and cope.
Minority stress in the LGBTQ+ community
Unrelated to COVID-19, this community faces minority stress based on anti-LGBTQ+ stigma that is harmful for their health and well-being (see key articles here and here). Those among us who are also racial/ethnic minorities, people with disabilities, immigrants, and people with low income may experience compounded minority stress at the intersections of these identities. For example, a person who is Black and bisexual may experience minority stress differently from someone who is White and gay, even though both of these people are LGBTQ+. LGBTQ+ Asian Americans may be experiencing even greater minority stress, due to increased discrimination against Asian Americans because the first COVID-19 outbreak was in China.
Research has shown that minority stress harms the mental and physical health of LGBTQ+ people (see here and here). It contributes to higher risk for a number of health problems, including anxiety and depression, which may worsen due to the stress of COVID-19.
New forms of stress for the LGBTQ+ community during the COVID-19 pandemic
Loss of work and income. Compared with non-LGBTQ+ people, LGBTQ+ people are more likely to have lower income and to have jobs that do not allow for working from home, such as retail stores and the service industry. Therefore, LGBTQ+ people may be more likely to experience food or housing insecurity during this time.
School closures. School closures may be especially challenging for the LGBTQ+ community. Many LGBTQ+ youth and young adults have experienced rejection from their family of origin. With schools closed and colleges and universities now online, LGBTQ+ youth and young adults with unsupportive families may now be home with those families full-time, or must find another place to live if they have been kicked out. Some LGBTQ+ youth and young adults who were "out" as LGBTQ+ at school and with peers, but not with their family, may now have to choose whether to hide their identities while they are at home.
Reduced access to care. During the COVID-19 pandemic, many forms of care that are considered nonessential have been delayed, with unique effects on the LGBTQ+ community. Transgender and nonbinary people may have trouble accessing gender-affirming care because hormones and surgeries may be considered nonessential. However, research suggests that access to gender-affirming care, such as hormonal treatments and surgery, is essential to the health and well-being of transgender and nonbinary individuals.
For LGBTQ+ people who are building families, access to fertility clinics is essential. However, many clinics are now delaying fertility treatments, which also delays family building for LGBTQ+ families.
Worries about seeking care for COVID-19 symptoms. Many LGBTQ+ people have had negative experiences with healthcare in the past, especially transgender and nonbinary people who have experienced discrimination related to their gender identity or gender expression. Thus, some LGBTQ+ people may need encouragement to seek care if they have COVID-19 symptoms, such as fever, cough, and fatigue.
Reduced access to legal protections. Even during this COVID-19 crisis, laws that restrict rights for the LGBTQ+ community continue to be proposed. In addition, LGBTQ+ people may be unable to access existing legal protections because of COVID-19-related closures. LGBTQ+ people with housing insecurity may be unable to access legal help to contest evictions because many lawyers are not currently taking new clients. LGBTQ+ families may lose access to critical legal protections related to co-parent adoption while family courts are closed. At a time when so many have become sick from COVID-19, ensuring the legal rights of a nongestational parent in a same-sex couple if the gestational parent becomes ill is more important than ever.
Coping with stress and loss of support
Some research finds that LGBTQ+ people are more likely to use stress-relief strategies that may be harmful, such as using tobacco or vaping and other substance use. So it's possible that LGBTQ+ people may increase their use of unhealthy substances to cope with the stress of daily life during a pandemic.
As freedom of movement is restricted to curb the spread of COVID-19 through physical ("social") distancing, many helpful coping strategies, such as meeting friends and spending time gathering in the community, are not an option. LGBTQ+ people who already feel isolated due to family rejection or the stigma of being LGBTQ+ may feel even more isolated with physical distancing and other restrictions on freedom of movement.
Helpful resources for the LGBTQ+ community
Many LGBTQ+ people have developed robust online communities of "chosen family" who continue to provide support and affirmation — resources which you may find helpful. Additionally, some organizations may be able to help you find local resources.
If you're seeking support and mental health resources:
If you're experiencing financial insecurity:
If you're struggling with access to health care or legal protections:
For more information on coronavirus and COVID-19, see the Harvard Health Publishing Coronavirus Resource Center and podcasts.
About the Author
Sabra L. Katz-Wise, PhD, Contributor
Sabra L. Katz-Wise, PhD (she/her) is an assistant professor in adolescent/young adult medicine at Boston Children's Hospital, in pediatrics at Harvard Medical School, and in social and behavioral sciences at the Harvard T.H. Chan School of …
See Full Bio
View all posts by Sabra L. Katz-Wise, PhD
Disclaimer:
As a service to our readers, Harvard Health Publishing provides access to our library of archived content. Please note the date of last review or update on all articles.
No content on this site, regardless of date, should ever be used as a substitute for direct medical advice from your doctor or other qualified clinician.
You might also be interested in…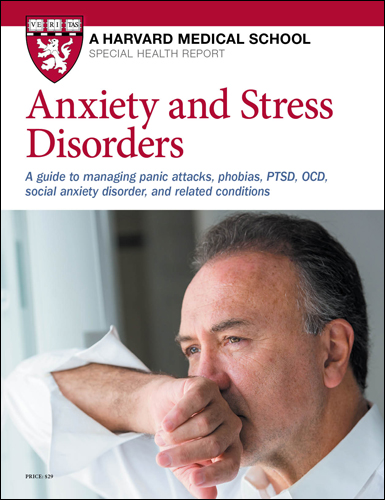 Anxiety and Stress Disorders
Everyone worries or gets scared sometimes. But if you feel extremely worried or afraid much of the time, or if you repeatedly feel panicky, you may have an anxiety disorder. Anxiety disorders are among the most common mental illnesses, affecting roughly 40 million American adults each year. This Special Health Report, Anxiety and Stress Disorders, discusses the latest and most effective treatment approaches, including cognitive behavioral therapies, psychotherapy, and medications. A special section delves into alternative treatments for anxiety, such as relaxation techniques, mindfulness meditation, and biofeedback.
Read More
Free Healthbeat Signup
Get the latest in health news delivered to your inbox!