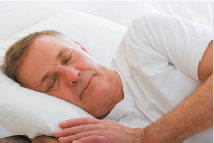 Painful knees and sleeplessness often go hand in hand, but a form of counseling called cognitive behavioral therapy (CBT) can help with both problems, according to a study in Arthritis and Rheumatology.
The study involved 100 people ages 50 to 70 with wear-and-tear arthritis (osteoarthritis) in the knee as well as insomnia. They were chosen at random for either eight sessions of CBT or a comparison treatment, called desensitization therapy, known not to be very effective for insomnia.
CBT for insomnia targets attitudes and behaviors that contribute to sleeplessness. Gradually it helps people to adopt healthier ways of thinking about sleep as well as habits that promote restful slumber.
In this study, the CBT group woke up less often after falling asleep, confirmed by sleep diaries and electronic monitoring of their sleep patterns. They also said their knee pain was less bothersome. That makes sense, since insomnia has been linked to higher sensitivity to pain.
Image: Thinkstock