Caregiver health needs more attention, say researchers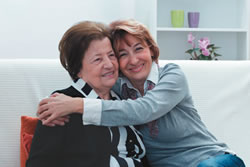 Image: Thinkstock
Pay attention to your own health if you're caring for a loved one. A study in the March 12, 2014, Journal of the American Medical Association notes that many physicians overlook caregiver burden, the toll that caregiving takes on a person. It can manifest as a physical ailment, mental illness, social isolation, financial problem, or a combination of those. "Caregivers get depressed. Then they neglect their own health or they miss doctor appointments because they can't extract themselves from their caregiving role. They just don't have support, so things like exercising, getting enough sleep, or engaging in a social life all fall away," says geriatrician Dr. Anne Fabiny, medical editor of Caregiver's Handbook, a Special Health Report from Harvard Medical School. Dr. Fabiny suggests that physicians assess the caregiver's health during regular visits for the person who is chronically ill. The answers can direct caregivers to various services and support systems, such as respite in the form of a home companion or an adult day care program for the patient, help with nonmedical services such as housekeeping and cooking, and counseling from therapists or support groups about caregiver stress and its consequences.
To continue reading this article, you must
log in
.
Subscribe to Harvard Health Online for immediate access to health news and information from Harvard Medical School.