Partial Seizures (Focal Seizures)
What Is It?
Nerve cells in the brain pass signals among themselves using both electrical current and chemicals. In a seizure, the brain's electricity is not passed in an organized way from one cell to the next, but spreads over a cluster of cells or the whole brain all at once. When only a portion of the brain is involved, the seizures are called partial seizures or focal seizures. These seizures vary tremendously in their effects on the person's movement, sensation or behavior depending on which area of brain is involved.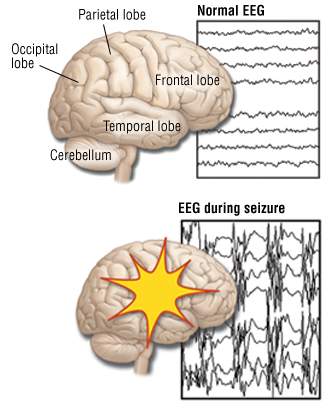 Sometimes a seizure may begin as a partial seizure but change part way through the event to involve the whole brain in the seizure activity, ending with arm and leg movements on both sides and loss of consciousness. When this happens, it is called a generalized seizure. A person who has seizures repeatedly is said to have epilepsy. In 70% of cases, the cause of epilepsy cannot be found. Sometimes, epilepsy can be caused by scar tissue or a brain infection that can interfere with the brain's electrical signaling. Scar tissue in the brain can be caused by head injury, tumor, stroke or surgery.Some partial seizures are associated with a change in consciousness, even though the person might appear to be awake and his or her eyes may be open. In this type of seizure, called a complex partial seizure, the affected person is unaware of the people nearby during the event, is not aware of his or her own movements or behaviors during the seizure, and does not remember the seizure after it occurs. When the person having a partial seizure is aware of having a seizure, is aware of his or her surroundings and remembers the event afterward, the seizure is classified as a simple partial seizure.
To continue reading this article, you must
log in
.
Subscribe to Harvard Health Online for immediate access to health news and information from Harvard Medical School.