Study may explain why older people don't sleep well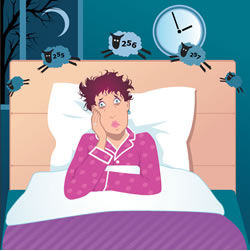 Image: Thinkstock
It's common knowledge that older people have trouble falling asleep, sleep less deeply, and awaken often during the night. But why is that so? A team of researchers may have found an answer deep in the brain. Their study, which will appear in the journal Brain, was published online in August.
A team from Harvard Medical School looked at data from the Rush Memory and Aging Project, which enrolled 1,000 healthy 65-year-olds and is following them until their deaths, after which their brains are donated for research. Beginning in 2005, the men and women in the study wore wristbands with motion recorders that enabled the researchers to determine how long and how well they were sleeping.
The team studied the recordings and brains of 45 participants with a median age of 89 at death. They found that men and women who had slept the least had the fewest neurons, or brain cells, in a region called the intermediate nucleus, and that those who slept the best had the most neurons in that area. Men and women with Alzheimer's disease tended to have fewer neurons in that brain area—and poorer sleep—than healthy participants.
To continue reading this article, you must
login
.
Subscribe to Harvard Health Online for immediate access to health news and information from Harvard Medical School.