Get a better night's sleep by turning off electronic gadgets
Make 9 p.m. your cutoff time, and keep screens off if you wake in the night.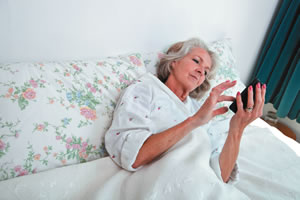 Photo: Thinkstock
Maybe you've heard that turning off a computer, smartphone, or TV screen can help you fall asleep, but is there really any truth to it? "Absolutely," says sleep expert Dr. Lawrence Epstein, an instructor in medicine at Harvard Medical School. "Light by itself is an alerting stimulus. It also suppresses the secretion of melatonin, a substance that helps regulate the body's internal clock, which controls the timing of the sleep-wake cycle." That means bright light in the late evening can delay the sleep period, making it harder to fall asleep at night and harder to get up early in the morning. "The later you look at bright screens, the more you can shift your internal clock," says Dr. Epstein.
So what should you do if you have trouble falling asleep? Reduce your exposure to electronic devices and televisions after 9 p.m. If you wake during the night and want to go back to sleep, resist the temptation to look at a computer, phone, or TV screen. "Staring at a bright light will only wake you up more," says Dr. Epstein.
To continue reading this article, you must
login
.
Subscribe to Harvard Health Online for immediate access to health news and information from Harvard Medical School.