The new PSA report: Understand the controversy
The day before the findings were even released, The New York Times reported on the long-awaited United States Preventive Services Task Force (USPSTF) recommendation on prostate-specific antigen (PSA) testing. The headline announced "U.S. Panel Says No to Prostate Screening for Healthy Men." The public response was immediate, ranging from approval to confusion and even outrage; the CEO of a prominent prostate cancer advocacy group proclaimed that the USPSTF position "condemns tens of thousands of men to die this year and every year going forward."
Now that the report is available to all of us and we've had time to study it and reflect on its message, we should step back and evaluate PSA screening on its merits. It's a complex issue that requires careful consideration; at the end of the process, even men who disagree about the PSA are likely to agree that The New York Times's front page headline was an unfortunate oversimplification, and that we should all use precise, dispassionate language in discussing this contentious issue. Among other things, we'll see that the USPSTF position is evolutionary, not revolutionary, and that it is a recommendation, not an edict. The Task Force cannot take away a man's right to have a PSA test, nor would it want to. Still, the report is important, and it does point out that before a man decides whether or not to have a PSA test, he should fully understand that screening for early prostate cancer may do more harm than good.
The prostate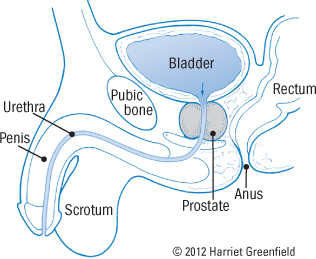 What is PSA?
At the center of the dispute is a simple glycoprotein (sugar-containing protein) produced by the epithelial cells of every prostate gland, benign or malignant. The prostate secretes PSA in the ejaculate, where its job is to liquefy semen, allowing sperm to swim toward their target. Although PSA is intended for the semen, some of it spills over into the blood, where it can be measured with a simple, inexpensive blood test. But even though the test is simple, interpreting its results is not. And while the test is inexpensive at about $50, it can lead to high downstream costs, both in dollars and health.
To continue reading this article, you must
login
.
Subscribe to Harvard Health Online for immediate access to health news and information from Harvard Medical School.