What is a tailor's bunion?
Regular bunions affect the big toe; a tailor's bunion, the little toe. Another term for tailor's bunion is bunionette.
Both types are caused by a misalignment of the small bones in the toes. As a result, the joint between the metatarsal and the first phalanx juts out and the end of the toe turns inward, toward the middle three toes.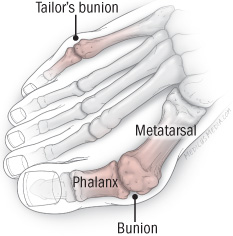 Tailor's bunions got their name because the way tailors used to sit put pressure on the little toe, explained Dr. James Ioli, a podiatrist and assistant professor at Harvard Medical School. Picture someone sitting cross-legged, but with just one leg tucked under the other instead of both. Sitting that way made it easy to position the cloth or garment on the lap so it was easy to sew, but it also put pressure on the little toe.
To continue reading this article, you must
login
.
Subscribe to Harvard Health Online for immediate access to health news and information from Harvard Medical School.