Angioplasty via wrist artery safe, effective
U.S. doctors are turning to the radial artery for angioplasty.
Following any artery back to its source brings you to the heart. Doctors have used that truism since the early 1980s to gain entry to the heart without cutting open the chest. The large, easily accessed femoral artery in the groin has long been the on-ramp for procedures such as angiography (a special x-ray of the coronary arteries) and artery-opening angioplasty. Now, some doctors in the United States are choosing a new point of entry — the radial artery in the wrist (see illustration). This approach could be a good option for some of the millions of people who have these cardiac procedures each year.
Radial artery angioplasty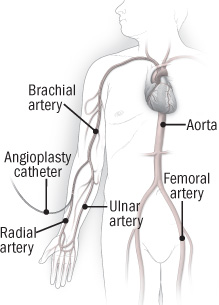 The radial artery runs from the elbow to the wrist. It and the ulnar artery supply the hand with oxygen-rich blood. After making a small puncture in the radial artery, a doctor can insert a wire called a catheter and maneuver it into a blocked or narrowed artery in the heart. Once the catheter is in place, a balloon at its tip is expanded, pressing a wire-mesh stent into the artery wall. This widens the artery and keeps it open.
To continue reading this article, you must
login
.
Subscribe to Harvard Health Online for immediate access to health news and information from Harvard Medical School.