Ask the doctor: Can I exercise even though my valves are leaking a little bit?
Ask the doctor
Can I exercise even though my valves are leaking a little bit?
Q. At 78 years old, I am in pretty good shape. A couple of years ago, an echocardiogram showed a small leak in my mitral valve. A year later, a follow-up test showed some leakage in my tricuspid valve. The valves aren't causing me any problems right now, but how will I know if they need to be repaired? I like to exercise, but don't want to make these valve problems worse. Is it okay for me to walk on a treadmill at a speed of 3 to 4 miles an hour or lift light weights?
A. For three of the four cardiac valves — the mitral, tricuspid, and pulmonic valves — a little bit of leakage is completely normal. In fact, for the mitral and tricuspid valves, the backflow of blood occurs well before the valve closes. Modern echocardiography equipment is so sensitive that virtually everyone's echocardiogram shows some leakage of the mitral and tricuspid valves, provided the images are technically reasonable. So, if your doctor tells you that you have a little mitral and tricuspid valve regurgitation, but you don't need to worry about it, don't let it interfere with your exercise program.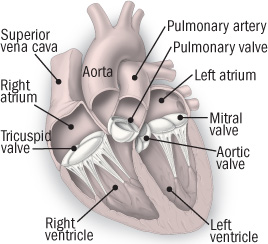 The aortic valve, in contrast, doesn't normally leak — not even a little. It acts like a door between the heart and the main artery of the body (the aorta). Nature probably sculpted this valve to close early, before blood can rush back toward the heart, as a way to direct blood into the coronary arteries. These arteries, which nourish the heart muscle, originate just beyond the aortic valve. If the valve closes early, more blood pressure is available to fill the needy coronary arteries.
To continue reading this article, you must
login
.
Subscribe to Harvard Health Online for immediate access to health news and information from Harvard Medical School.