What's involved in memory screening and testing?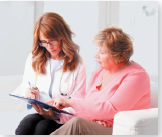 Checking for underlying conditions is the first step when investigating a change in thinking skills.
Image: Thinkstock
A mini mental status exam or a thorough cognitive assessment can give you answers and may improve your qualify of life.
Forgetting where you parked your car or where you left your keys are common memory slips that are usually just part of normal aging. But if you can't remember how to get home, or what keys are used for, it's time to talk to your doctor. "There are changes in memory that are related to normal aging, and there are more worrisome changes in memory and thinking skills that could signal the earliest signs of a brain disease like Alzheimer's. Your doctor can perform assessments to tell the difference between the two," says Dr. Kathryn Papp, neuropsychologist and instructor in neurology at Harvard Medical School.
To continue reading this article, you must
login
.
Subscribe to Harvard Health Online for immediate access to health news and information from Harvard Medical School.