For a healthy brain, take all the prevention steps you can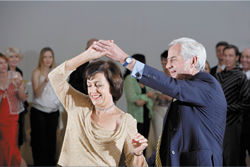 Image: Thinkstock
" Live an enriched life, and your mind will
be enriched too." — Dr. David Hsu
Diet and exercise are only part of it. Add heart health and staying mentally and socially active to keep your mind and memory sharp.
Health-conscious men know it's a no-brainer that eating a healthy diet and staying physically active help maintain memory. Controlling blood pressure and cholesterol is also recommended, because heart health means brain health. "There are a lot of long-term studies showing that good nutrition, exercise, and reducing cardiovascular risk can prevent memory loss and dementia down the road," says Dr. David Hsu, a geriatric psychiatrist with the Center for Alzheimer Research and Treatment at Harvard-affiliated Brigham and Women's Hospital.
To continue reading this article, you must
login
.
Subscribe to Harvard Health Online for immediate access to health news and information from Harvard Medical School.