Ask the doctor: When your heart "skips" a beat
Q. Every now and then, my heart feels like it skips a beat or thumps harder than usual. Why does this happen, and should I have it checked out?
A. What you describe is a common and usually harmless event called a premature ventricular contraction (PVC). It happens when one of the heart's lower chambers (ventricles) triggers an extra heartbeat. This disrupts the heart's normal steady rhythm. After the premature beat comes a slight pause, which fills the heart with more blood than usual. That gives the next heartbeat extra force, so it feels stronger than normal. People say it feels like their heart has skipped a beat, or that it's flip-flopping or fluttering.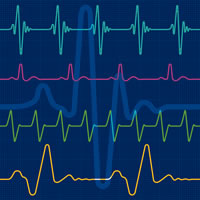 Image: Thinkstock
A electrocardiogram can diagnose PVCs.
Nearly everyone has PVCs at some point—they're quite common. Sometimes, they show up on a routine electrocardiogram. Certain things may increase the risk of PVCs, including caffeine, tobacco, alcohol, high blood pressure, and anxiety. If you're otherwise healthy, they are usually no cause for concern.
To continue reading this article, you must
login
.
Subscribe to Harvard Health Online for immediate access to health news and information from Harvard Medical School.