Safe exercise: Know the warning signs of pushing too hard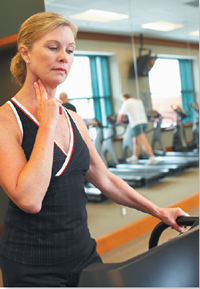 Your heart should beat
faster than normal during
exercise, but you should
not feel any chest pain.
Image: Thinkstock
Chest pain, dizziness, and shortness of breath mean you should back off and call your doctor.
You know the expression about no pain, no gain. But pain and other symptoms during exercise are not normal. That means you should pay attention when your body is sending you warning signs. "Be sensible if you have symptoms. It's better to get help so you can exercise for years to come rather than suffer a bad side effect because you were being stubborn," says Dr. Aaron Baggish, associate director of the Cardiovascular Performance Program at Harvard-affiliated Massachusetts General Hospital.
To continue reading this article, you must
login
.
Subscribe to Harvard Health Online for immediate access to health news and information from Harvard Medical School.