Ask the doctor: I fractured my hip three years ago, but my leg still hurts when I exercise. Should I stop exercising?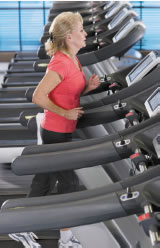 Image: Thinkstock
Q. I'm a 78-year-old athlete and dancer. Three years ago, I broke my hip. After it was repaired I completed extensive physical therapy. Since then, I've been working out at a gym using the treadmill, stationary bicycle, and rowing machine. But I still have tremendous pain in my thigh. Should I stop exercising? It helps me control my weight and blood pressure.
A. I applaud you for persisting with your exercise. You're not only keeping your weight and blood pressure down but you're also building stronger bones to help prevent fractures in the future.
However, if you really have "tremendous" pain in your thigh, then you need to see your doctor to determine why. That amount of pain isn't normal after a hip has been surgically repaired, and it requires evaluation. Because this has been going on for three years, this is now considered a chronic pain problem. You may well need some more physical therapy, and even a new approach to pain control so that you can exercise comfortably. In the meantime, you should decrease the intensity or duration of your exercise to reduce the level of pain.
To continue reading this article, you must
login
.
Subscribe to Harvard Health Online for immediate access to health news and information from Harvard Medical School.