Specks in your vision can signal serious eye conditions
These "floaters" are not just bothersome. They can be signs of potential retinal disease.
Floaters, those tiny specks that drift across your field of vision, are usually harmless and often disappear or become less noticeable on their own. But sometimes they indicate a condition that can lead to vision loss. "A new onset of floaters may herald retinal disease," says Dr. Jeffrey Heier, director of the retina service at Ophthalmic Consultants of Boston and clinical instructor in ophthalmology at Harvard Medical School.
Retinal detachment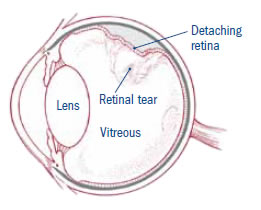 Harriet Greenfield
If the vitreous detaches, it may pull on the retina and
cause a tear. This may cause blood to ooze into the
vitreous gel, and a person will see black spots or floaters.
Without treatment, progression from a tear to a retinal
detachment could cause permanent vision loss.
To continue reading this article, you must
login
.
Subscribe to Harvard Health Online for immediate access to health news and information from Harvard Medical School.