In the journals: Could cholesterol-lowering drugs cause cataracts?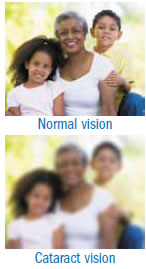 Image: Thinkstock
People who take a cholesterol-lowering statin drug are slightly more likely to develop cataracts, according to a study in JAMA Ophthalmology. A cataract is cloudiness in the natural lens of the eye that impairs vision.
Statins cut the risk of heart disease by lowering "bad" LDL cholesterol. Some past studies have linked statins to cataracts; others found no connection. To investigate further, the researchers matched about 7,000 people who were prescribed statins to an equal number of people who did not take statins. Over six years, statin users had a slightly higher chance of being diagnosed with cataracts: (35.5%) compared with non-users (33.5%).
Should you fear cataracts if you take a statin? It's hard to tell based only on this study. For one thing, it's unclear why statins would cause cataracts. Also, differences between the statin users and non-users that the researchers did not account for might have influenced the results. For example, the statin users might have seen their doctors more often, making it more likely for them to be diagnosed with cataracts.
To continue reading this article, you must
login
.
Subscribe to Harvard Health Online for immediate access to health news and information from Harvard Medical School.