Got milk? It might help your arthritis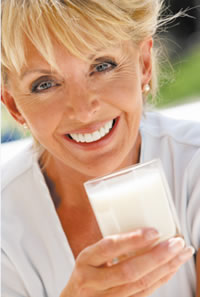 Image: Thinkstock
Milk protects joints and bones.
You might drink milk to strengthen your bones, but it could also do your joints some good. A study reported in the June issue of Arthritis Care & Research found that women who drank low-fat or skim milk experienced a slower progression of knee osteoarthritis (OA).
The study, which was conducted by researchers at Harvard Medical School, followed 2,148 participants with knee OA for four years. Researchers measured the participants' joint space in the knee to see how much their osteoarthritis was progressing. Narrowing of the joint space is a sign that osteoarthritis is getting worse. The more milk women (but not men) drank, the less their joint space narrowed.
Although the reason for the improvement wasn't clear, the calcium in milk may slow osteoarthritis by protecting the bones that support the joints. Other forms of dairy in the study didn't have the same effect. In fact, women in the study who ate seven or more servings of cheese per week lost more joint space than those who didn't eat cheese. The difference in dairy's effects on joints may lie in fat content. Cheese is high in saturated fat, which has been linked to worsening osteoarthritis.
To continue reading this article, you must
login
.
Subscribe to Harvard Health Online for immediate access to health news and information from Harvard Medical School.