Ask the doctor: Safe driving and aging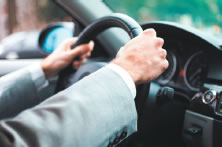 Q. When is it time to stop driving? My kids worry that my driving skills are slipping.
A. You can drive safely if you have adequate vision, hearing, coordination, strength, and reaction time. These abilities tend to decline with age, and drivers over age 75 are involved in more fatal accidents per mile driven than younger drivers. To drive safely, you should have near-normal corrected vision, including peripheral vision. You should be able to hear a car horn or siren easily. You should be able to rotate your neck to look over your shoulder and have good sensation in your feet.
Reaction time declines with age, and there is no simple way to determine if yours is adequate for safe driving. But one possible warning sign is a history of falls. Several studies have shown that someone who has fallen in the past year is more likely to be in a motor vehicle accident. Being diagnosed with cognitive impairment—a decline in memory and mental skills that affects your daily life—is also an important reason to avoid driving. Individuals with cognitive impairment have slower reaction times and may become confused in fast-changing situations.
To continue reading this article, you must
login
.
Subscribe to Harvard Health Online for immediate access to health news and information from Harvard Medical School.