Dental Health for Adults
Dental Health for Adults highlights what you—and your dentist—can do to preserve and protect your teeth and gums. You'll find how to address and arrest common gum issues. You'll read about advances in detecting and treating cavities, options in replacing missing teeth, breakthroughs in cosmetic dentistry, the power of at-home dental care, and even how to take the stress out of a dental visit.

Other Product Information
Tooth and gum problems can increase your risk of heart disease, stroke, and diabetes. Mouth pain can impair your sleep. Stained and crooked teeth can affect your self-confidence.
The good news is that you can prevent tooth and gum problems, reduce your risk of oral pain, and. have a smile that will give you reason to grin.
You'll find out how in
Dental Health for Adults
. From Harvard Medical School, this online guide offers the honesty you deserve …the explanations you want…and the instruction you can trust.
Real, practical, and straight-forward guidance you can use.
This report highlights what you—and your dentist—can do to preserve and protect your teeth and gums. You'll find how to address and arrest common gum issues. You'll read about advances in detecting and treating cavities…options in replacing missing teeth…breakthroughs in cosmetic dentistry…the power of at-home dental care…and even how to take the stress out of a dental visit.
You can brighten the future of your teeth and gums!
Keeping your teeth and gums healthy is much like keeping your body healthy. Daily exercise. Regular check-ups. And giving thought to what you eat. You'll discover a brushing technique to sweep out plaque…the best way to floss…and one toothpaste to avoid. You'll learn how to get the most from a dental exam. And you'll be briefed on mouth-healthy foods that reduce risk of cavities.
In
Dental Health for Adults
you'll read about cavity-halting sealants, safe fillings, and versatile techn-iques to repair a decay-damaged tooth. You'll find a simple way to reverse gingivitis. And you'll learn about a new procedure to remove the infection and seal the pocket caused by severe periodontitis.
Plus, if you need to replace a tooth, this Guide offers candid information on today's choices. Should you consider a bridge, an implant or a denture? You'll find the five factors to weigh in your decision. You'll know which last longest, which are most apt to break, plus how they compare for cost.
And a concluding section of this valuable new guide brings you the latest dental procedures to cor-rect and enhance your teeth's appearance. You'll read whether a veneer or bonding may be your better choice to conceal a chip or hide a stain. You'll find why braces remain the most common way to move teeth. And you'll learn why you might want to think twice before opting for a plastic aligner.
Prepared by the editors of Harvard Health Publishing in consultation with Tien Jiang, DMD, MEd, Instructor, Oral Health Policy and Epidemiology, Harvard School of Dental Medicine. (2021)
About Harvard Medical School Guides
Harvard Medical School Guides delivers compact, practical information on important health concerns. These publications are smaller in scope than our Special Health Reports, but they are written in the same clear, easy-to-understand language, and they provide the authoritative health advice you expect from Harvard Health Publishing.
Keeping your mouth healthy
The health of your mouth largely depends on what goes into it and how you take care of it. There are a few simple ways to care for your mouth and teeth:

Be mindful of what you eat and drink. A healthy diet is good for your mouth as well as the rest of your body. Sugar isn't taboo, but it's important to consider that sugar provides energy not only for you, but also for decay-causing bacteria that live in your mouth. Sugars that linger, such as hard candies and other sticky foods, or sweet drinks that are sipped throughout the day, give the bacteria more time to consume them and produce acids that can lead to tooth decay. Sugars eaten alone or with starches (as with baked goods) are riskier than sugars eaten with a meal.

Besides reducing sugar exposure, choose mouth-healthy foods when possible. For example, peanuts and hard cheeses make saliva less acidic, which can reduce the likelihood of tooth decay. Foods containing calcium, vitamin D, vitamin C, folic acid, iron, and zinc also are great for keeping bones strong and maintaining the health of your gums. And protein nourishes the connective tissue that supports your teeth.

Understand the effects of alcohol and tobacco. Alcohol use is a risk factor for oral cancer, and many alcoholic drinks contain sugar as well.

Smokers are twice as likely as nonsmokers to develop periodontal disease, and all tobacco users have an increased risk of oral cancer. Tobacco use also can increase the risk of tooth decay; this is especially true for chewing-tobacco users, who have up to four times the risk of people who don't use tobacco.

Know your medications. Hundreds of medications also can affect mouth health. The most common medication-related side effect is dry mouth, which can prevent sugars from washing away and limit saliva's naturally protective effects, increasing the risks of decay and gingivitis, the earliest stage of periodontal (gum) disease. Some medications also can cause extra gum growth, yeast infections, mouth sores, or tooth stains. When starting a new medication, ask your doctor about any potential side effects, in the mouth or elsewhere, and what to do to prevent or address them. Furthermore, be sure to tell your dentist about existing and new medications.

Keep your teeth and gums clean. Daily at-home care of your mouth is a crucial part of overall health. Careful brushing and flossing help to prevent tooth decay and gum disease and can even reverse them at early stages.

Visit the dentist regularly. Tooth decay, gum disease, and oral cancer all have warning signs, and your dentist is an expert at seeing those signs and providing early treatment. Fixing a minor issue is simpler, less uncomfortable, and less timeconsuming and costly than treating problems that have worsened over time. This is why regular dental visits are so important.
Reviews
No reviews have been left for this newsletter. Log in and leave a review of your own.
You might also be interested in…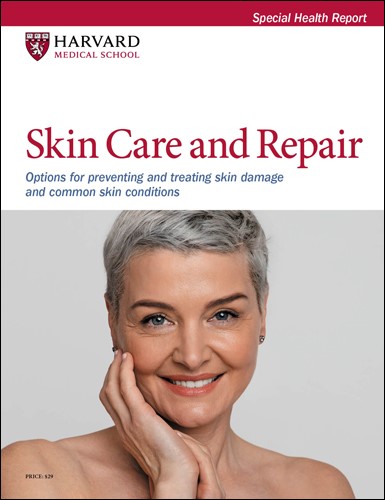 Skin Care and Repair
New information on treatments for both medical skin conditions and cosmetic problems is available in the Special Health Report Skin Care and Repair. This report describes scientifically approved treatments for common medical conditions from acne to rosacea, as well as the newest cosmetic procedures for lines, wrinkles, age spots, and other problems. An explanation of the ingredients in popular skin lotions and cosmeceuticals is also included.
Read More
Free Healthbeat Signup
Get the latest in health news delivered to your inbox!