2023 Annual Report on Prostate Diseases
Most men eventually develop some type of prostate problem, and when they do there are usually no easy solutions. More than a primer on prostate conditions, this Special Health Report, the Annual Report on Prostate Diseases, includes roundtable discussions with experts at the forefront of prostate research, interviews with men about their treatment decisions, and the latest thinking on complementary therapies. This report will provide you with the information you need to understand the current controversies, avoid common pitfalls, and work with your doctor to make informed choices about your prostate health.
Other Product Information
After a diagnosis of a prostate disease, including prostate cancer, patients and their families face important decisions and choices. Too often they confront confusing and even contradictory advice.
That's what makes this 2023 Annual Report such essential reading. It is comprehensive, candid, and constructive. It examines today's diagnostic and treatment options fully and frankly.
It's the impartial resource you want for one of the most personal health choices you will make. You'll get objective, no-nonsense answers to your most pressing prostate questions.
From first page to last, your interests and well-being are front and center!
Today, prostate cancer can be addressed with surgery, radiation, focal therapy, hormonal therapy, chemotherapy or active surveillance. At the same time extraordinary advances in genetic testing hold promise of revolutionizing effective prostate cancer management for many men.
The 2023 Annual Report will help you navigate your options with more confidence and less anxiety. You'll be briefed on…
The new drug, darolutamide, that promises to cut death rates in half for men with nonmetastatic castration-resistant prostate cancer. Or may be used in tandem with docetaxel chemotherapy to treat metastatic castration-sensitive prostate cancer.
The imaging advance that targets the smallest tumors with pinpoint accuracy.
Open vs. Robotic Radical Prostatectomy: How the long-term results compare.
And for easing the pain of prostatitis and the burdens of BPH, there are more than two dozen medications and procedures—from antibiotics and alpha blockers to photoselective vaporization and robot-assisted aquablation.
You'll discover…
The BPH procedure that can bring years of relief with no sexual side effects.
A simple, easy-to-master relaxation technique that can ease agonizing prostatitis pain.
The newly approved combination drug that quells BPH symptoms better than finasteride alone.
Plus, in a heartening roundtable, Harvard experts discuss the smartest steps to take following an abnormal PSA result. You'll read about advances in detection, avoiding unnecessary biopsies, more precise scoring, and active surveillances.
And, the 2023 Annual Report will bring you information on options to overcome ED after surgery, advances in salvage therapy, the growing importance of biomarkers, the three proven risk factors for prostate cancer that you can control, and much more.
Prepared by the editors of Harvard Health Publishing in consultation with Marc B. Garnick, M.D., Gorman Brothers Professor of Medicine, Harvard Medical School, and Physician, Oncology Division, Beth Israel Deaconess Medical Center. 125 pages. (2023)
What causes prostate cancer?
No one knows precisely what causes prostate cancer. But that doesn't mean it's a total mystery, either. Genetic defects play a role in the development of any cancer, as do carcinogens (substances that cause DNA damage). In some instances, the defects are inherited, meaning that they affect DNA in the parent's sperm or egg cells (which are also called germ cells) and carry through into the developing baby. These inherited (germline) defects will be present in every cell of the body, but their cancer-causing effects tend to be selective for specific organs, including the prostate.

For example, the same germline defects in the BRCA1 and BRCA2 genes that boost the risk of breast and ovarian cancer in women have also been linked to aggressive, hard-to-treat prostate cancers that affect younger men. BRCA genes ordinarily repair DNA damage. When those genes are defective, DNA damage can accumulate inside cells that, in turn, grow abnormally and form tumors. Roughly a quarter of all men who have aggressive prostate cancer have defects in one or both of these genes, but most commonly in BRCA2 alone. DNA repair defects aren't limited to just BRCA: investigators have found dozens of inherited mutations affecting numerous DNA repair genes that could potentially be involved in prostate cancer. Research published in 2019 found that men with aggressive prostate cancer are three times more likely to have defective DNA repair genes than men whose tumors are growing more slowly.

Other germline genetic defects implicated in prostate cancer occur in the ATM gene (which helps regulate cell growth), in the HOXB13 gene (which plays a role in prostate development), in the PALB2 gene (which coordinates with BRCA2 in the DNA damage response), in the CDK12 gene (which helps to stabilize the cell genome), and in so-called mismatch repair genes (which repair DNA errors that allow cancer cells to survive for unusually long durations and to resist chemotherapy). Men with advanced prostate cancer can also have gene mutations that boost their sensitivity to testosterone, making their prostate cancer cells grow more aggressively. If they have metastatic cancer and defects in a gene called CHEK2, they are not as likely to respond to hormonal treatments that aim to blunt testosterone's effects. Research published in 2022 showed that men with localized tumors that are confined to the prostate gland rarely have germline mutations. Fortunately, as many as 90% of the gene defects that have been found so far in advanced prostate cancer can be targeted with existing drugs or drugs that are now in clinical trials.

Doctors screen for germline mutations in saliva, urine, and blood samples. But other genetic defects, which are not inherited, can develop if chemicals, radiation, or inflammation alter DNA. These somatic mutations, as they are known, are found only in the cells descending from the cell that was originally mutated, and some of them may cause prostate cancer. Doctors look for them in tumor samples.
Reviews
No reviews have been left for this newsletter. Log in and leave a review of your own.
You might also be interested in…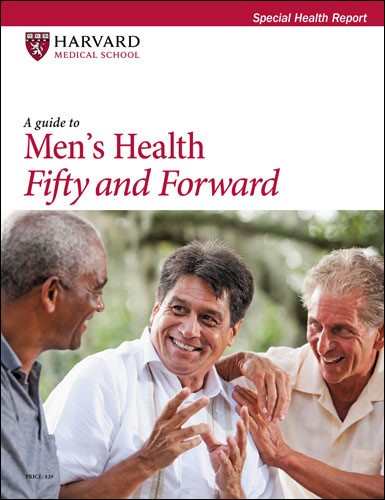 A Guide to Men's Health Fifty and Forward
This Special Health Report, A Guide to Men's Health Fifty and Forward, offers steps and strategies to lessen — or prevent — threats to a man's well-being and longevity. It provides a wide-ranging, clear-eyed look at the leading causes of death for men at midlife and beyond. It examines those factors that put them at risk for a variety of health problems and explains the important measures that can be taken to reduce risk and live a longer, healthier life.
Read More
Free Healthbeat Signup
Get the latest in health news delivered to your inbox!