Stroke: Strategies to prevent, treat, and recover from a "brain attack"
Protect your brain: That's the strategy that Harvard doctors recommend in this report on preventing and treating stroke. Whether you've already had a mini-stroke or a major stroke, or have been warned that your high blood pressure might cause a future stroke, Stroke: Strategies to prevent, treat, and recover from a "brain attack" provides help and advice.
Other Product Information
Stroke is a feared medical problem because it can be debilitating or even deadly. Your best defense is to make sure you know how to prevent a stroke and how to recognize one so you can get treatment right away.
In Stroke: Strategies to prevent, treat, and recover from a "brain attack", Harvard Medical School experts distill the latest research and recommendations into understandable advice that can help you prevent or cope with a stroke.
Harvard Medical School's Stroke report reveals:
The risk factors that increase your chances of having a stroke
Why stroke symptoms can differ from person to person
The reason "mini-strokes" can be just as serious as ischemic strokes
The app you should have on your phone or tablet that shows how to detect a stroke
The type of therapist you may not know about who can help you regain speech after a stroke
And so much more!
Prepared by the editors of Harvard Health Publishing in consultation with Randie M. Black-Schaffer, M.D., M.A., Medical Director, Stroke Program Spaulding Rehabilitation Hospital, Assistant Professor of Physical Medicine and Rehabilitation, Harvard Medical School with Natalia Rost, M.D., Director of Acute Stroke Services, Massachusetts General Hospital, Associate Professor of Neurology, Harvard Medical School. 53 pages. (2022)
Who is at risk for stroke?
Of the approximately 795,000 strokes that occur in the United States each year, about 610,000 are first strokes, and 185,000 are recurrent attacks. Although the incidence of stroke has declined significantly since the 1960s, the strokes that do happen are just as severe. In fact, stroke is a leading cause of serious, long-term disability in the United States.
The odds of having a stroke more than double every 10 years after age 55. More than two-thirds of strokes involve people over 65. If you have a stroke, the risk of dying from it also increases with age: 88% of deaths from stroke are in people 65 and older.
Women have about 55,000 more strokes than men each year, and women make up about 60% of stroke deaths. Race is another risk factor. African Americans, for example, are almost twice as likely to suffer a stroke as are whites.
Although you can't change your age, gender, or race, you can take steps to reduce other risk factors for stroke, especially ischemic stroke. The most common risk factors for both ischemic stroke and TIAs are high blood pressure (hypertension), diabetes, unhealthy cholesterol levels, obesity, and cigarette smoking. All of these factors affect the health of your blood vessels—increasing the risk not only of stroke, but also of heart disease. That's why medications and other steps you take to reduce the risk of an ischemic stroke will also benefit your heart.
Some types of hemorrhagic stroke are more likely to occur in people with chronic high blood pressure.. But other types of hemorrhagic stroke seemingly strike out of the blue. Although abnormal blood vessel conditions such as an aneurysm (a bubble in the blood vessel wall that could rupture) or an arteriovenous malformation (an abnormal tangle of blood vessels) increase the risk, these conditions may only be discovered inadvertently while you are undergoing testing for something else—or may not be discovered until a stroke occurs.
If you are at risk of having a stroke, prepare for an emergency by displaying important phone numbers prominently next to the telephone, such as the numbers of your doctor and a relative or close friend who should be contacted. It's also a good idea to keep on hand a
Stroke warning signs and symptoms
Everyone should learn the following warning signs of stroke. If you experience any of these symptoms, immediately dial 911 or go to an emergency room:
weakness in an arm, hand, or leg
numbness on one side of the body
sudden dimness or loss of vision, particularly in one eye
sudden difficulty speaking
inability to understand what someone is saying
dizziness or loss of balance
sudden, lasting, excruciating headache.
Reviews
No reviews have been left for this newsletter. Log in and leave a review of your own.
You might also be interested in…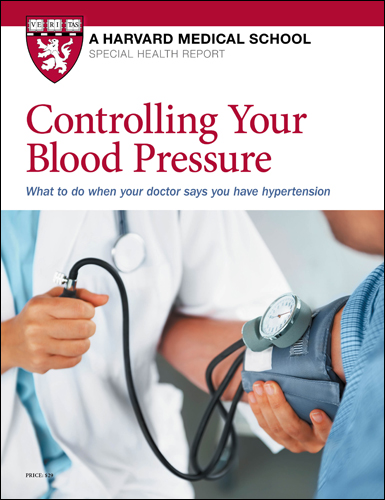 Controlling Your Blood Pressure
An alarming one in three American adults has high blood pressure. Known medically as hypertension, many people don't even know they have it, because high blood pressure has no symptoms or warning signs. But when elevated blood pressure is accompanied by abnormal cholesterol and blood sugar levels, the damage to your arteries, kidneys, and heart accelerates exponentially. Fortunately, high blood pressure is easy to detect and treat. In the Special Health Report, Controlling Your Blood Pressure, find out how to keep blood pressure in a healthy range simply by making lifestyle changes, such as losing weight, increasing activity, and eating more healthfully.
Read More
Free Healthbeat Signup
Get the latest in health news delivered to your inbox!