Heart Health
Meal of the month: Baked salmon, farro, and colorful vegetables
Since it's February, this month's dinner is a special occasion meal — including dessert — in honor of Valentine's Day. Treat your sweetheart or a close friend to this meal, which can be easily modified to include your favorite fish, whole grain, and vegetables.
Our suggestion features salmon, which is rich in heart-healthy omega-3 fatty acids. Wild salmon from the Pacific Northwest is prized for its flavor, but farm-raised Atlantic salmon is more widely available and less expensive. A simple preparation method is to bake salmon fillets in the oven, topped with slices of lemon. Add a few sprigs of thyme, if available.
Fill half of your plate with vegetables, so choose your two favorites — ideally one green vegetable (such as broccoli or asparagus) and one orange or yellow vegetable (such as carrots or squash). You can roast these vegetables while you cook the salmon; just toss them with olive oil and spread out on a sheet pan. Instead of salt, try sprinkling them with a sodium-free herb and spice blend. Whole-grain farro makes a nice side dish, which you can prepare with low-sodium vegetable broth instead of water. For dessert, have strawberries or other fruit dipped in dark chocolate.
Image: © NataBene/Getty Images
Disclaimer:
As a service to our readers, Harvard Health Publishing provides access to our library of archived content. Please note the date of last review or update on all articles.
No content on this site, regardless of date, should ever be used as a substitute for direct medical advice from your doctor or other qualified clinician.
You might also be interested in…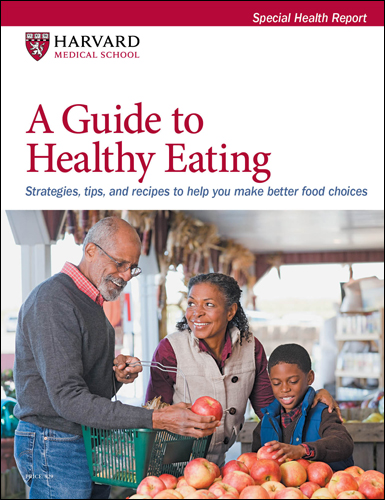 A Guide to Healthy Eating: Strategies, tips, and recipes to help you make better food choices
Eat real food. That's the essence of today's nutrition message. Our knowledge of nutrition has come full circle, back to eating food that is as close as possible to the way nature made it. Based on a solid foundation of current nutrition science, Harvard's Special Health Report A Guide to Healthy Eating: Strategies, tips, and recipes to help you make better food choices​ describes how to eat for optimum health.
Read More
Free Healthbeat Signup
Get the latest in health news delivered to your inbox!