Get acclimated before activity in higher altitudes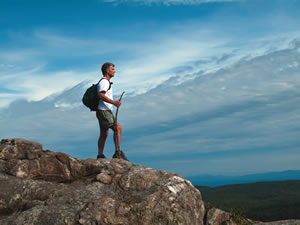 Photo: Thinkstock
Planning any skiing or hiking at high altitudes? You might want to rethink where you sleep the night before the activity. A study in the July 2013 American Heart Journal suggests that older men can lower their risk of sudden fatal heart attack by first becoming acclimated to the higher elevation. Researchers analyzed more than 300 heart attack deaths of older men that happened during week-long vacations in the Austrian mountains, between 5,000 and 6,000 feet above sea level. About 40% died while doing cross-country, downhill, or back-country skiing, and 60% died while hiking on easy terrain. Past studies have shown that men over age 34 who hike at this altitude have a fourfold higher risk of sudden death than during normal activities at low altitudes. What this new study showed is that men who slept the night before at about 2,300 feet above sea level were more than five times as likely to die on the first day as men who slept at about 4,300 feet above sea level. Researchers conclude that a period of acclimatization before recreation may reduce the triggers of heart attacks (at higher altitudes the air has a lower oxygen tension, and your heart has to work harder). In other words, if you're going to go skiing or hiking in the mountains, give yourself a day of rest first, and make sure it's at an altitude similar to the one where you're going to go and play.
To continue reading this article, you must
login
.
Subscribe to Harvard Health Online for immediate access to health news and information from Harvard Medical School.