Dizzy spells when you stand up: When should you worry?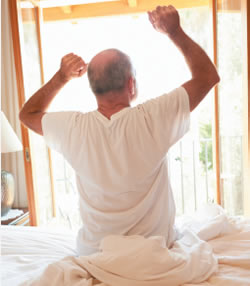 If you are at risk of falling because of morning wooziness, tell your doctor.
Image: Thinkstock
It's a common phenomenon with an uncommon name: orthostatic hypotension. It just means that when you shift from lying down or sitting to standing, your blood pressure drops and you momentarily feel a little woozy. That's because blood pools in your legs temporarily when you stand up, and it takes the body a moment to compensate by squeezing blood out of the large veins in your legs and revving up the heart a bit. The dizziness may strike after you eat a meal, because digestion diverts blood flow and may lower your blood pressure.
To continue reading this article, you must
login
.
Subscribe to Harvard Health Online for immediate access to health news and information from Harvard Medical School.