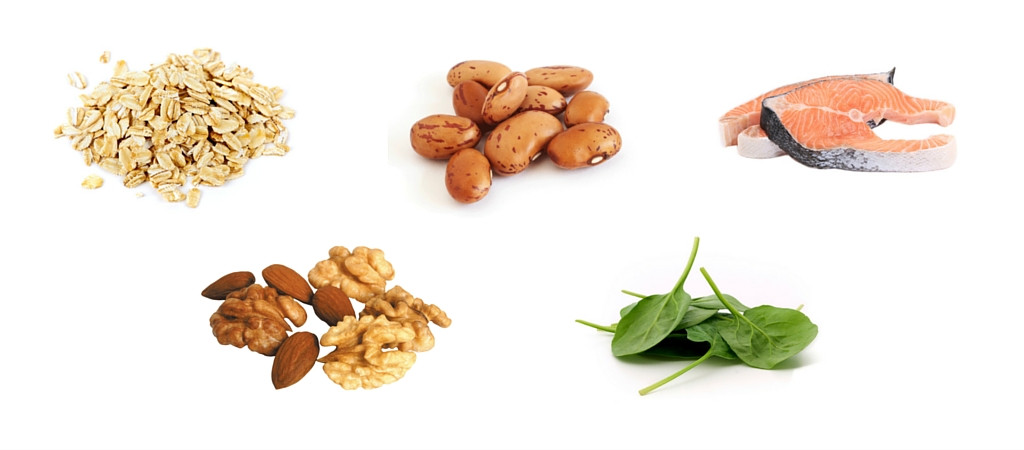 Your diet clearly plays a role in determining your cho­lesterol levels. In fact, changing what you eat can lower your cholesterol and improve the composition of the armada of fats floating through your bloodstream. Fresh fruits and vegetables, whole grains, and "good fats" are all part of a heart-healthy diet. But some foods are particularly good at helping bring down cholesterol.
How? Some cholesterol-lowering foods deliver a good dose of soluble fiber, which binds cholesterol and its precursors in the digestive system and drags them out of the body before they get into circulation.
Others provide polyunsaturated fats, which directly lower LDL, or "bad" cholesterol. And those with plant sterols and stanols keep the body from absorbing cholesterol. Here are five of those foods:
Oats. An easy way to start lowering cholesterol is to choose oatmeal or an oat-based cold cereal like Cheerios for breakfast. It gives you one to two grams of soluble fiber. Add a banana or some strawberries for another half-gram.
Beans. Beans are especially rich in soluble fiber. They also take a while for the body to digest, meaning you feel full for longer after a meal. That's one reason beans are a useful food for folks trying to lose weight.
Nuts. Studies show that eating almonds, walnuts, peanuts, and other nuts is good for the heart. Eating two ounces of nuts a day can slightly lower LDL, on the order of 5%. Nuts also have additional nutrients that protect the heart in other ways.
Foods fortified with sterols and stanols. Sterols and stanols extracted from plants interfere with the body's ability to absorb cholesterol from food. Companies are now adding them to a wide variety of foods. They're also available as supplements. Getting two grams of plant sterols or stanols a day can lower LDL cholesterol by about 10%.
Fatty fish. Eating fish two or three times a week can lower LDL in two ways: by replacing meat, which has LDL-boosting saturated fats, and by delivering LDL-lowering omega-3 fats. Omega-3s reduce triglycerides in the bloodstream and protect the heart by helping prevent the onset of abnormal heart rhythms.
Learn more ways to keep your heart healthy and conquer high cholesterol, in Managing Your Cholesterol , a Special Health Report from Harvard Medical School.
Images: iStock
Disclaimer:
As a service to our readers, Harvard Health Publishing provides access to our library of archived content. Please note the date of last review or update on all articles.
No content on this site, regardless of date, should ever be used as a substitute for direct medical advice from your doctor or other qualified clinician.