Another benefit of brisk walking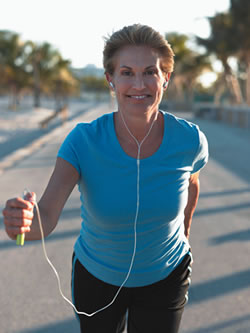 Image: Thinkstock
We often write in these pages about the benefits of brisk walking. It reduces blood pressure, lowers cholesterol, and lowers the risk of heart disease, diabetes, and some cancers. It also improves your thinking skills, mood, and bone health. And now scientists say brisk walking may improve the symptoms of Parkinson's disease. A study published online July 2, 2014, in Neurology found that people with mild to moderate Parkinson's who walk regularly may improve their motor function, mood, energy level, fitness, and some aspects of thinking abilities. Researchers followed people who walked at moderate intensity—about 3 mph on average—three times a week, for 45 minutes per session. After six months, brisk walking improved motor function and mood by 15%, reduced tiredness by 11%, and increased aerobic fitness and gait speed by 7%. The results need to be confirmed by further studies, but they may offer hope to people with Parkinson's who do not have dementia and are able to walk independently without a cane or walker. Since people with Parkinson's often have balance and gait challenges, it's important to get a doctor's okay before starting a walking program. 
To continue reading this article, you must
log in
.
Subscribe to Harvard Health Online for immediate access to health news and information from Harvard Medical School.