Head Injury In Adults
What Is It?
Trauma to the head can cause several types of head injuries, including traumatic brain injury (TBI). Problems from head injury include:
Skull fracture — A skull fracture is a crack or break in one of the skull's bones. In some cases, the skull is dented inward so that fragments of shattered bone are pressed against the surface of the brain. This is called a depressed skull fracture. In most cases, a skull fracture causes a bruise (contusion) on the surface of the brain under the fracture.

Epidural hematoma — This is a very serious form of bleeding that happens when one of the blood vessels under the skull is torn during an injury. Usually the skull is fractured as well. As the injured vessel bleeds, blood collects in the space between the skull and the dura, the outermost of the three membranes that cover the brain. This collection of blood is called a hematoma. The hematoma can expand within the skull and press on the brain, causing death.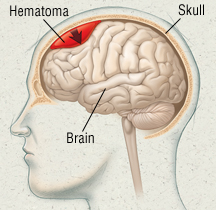 Acute subdural hematoma — In this injury, a blood vessel tears, and blood collects between the dura and the surface of the brain. This can happen when the head is hit or when a sudden stop causes the head to move violently forward and back (whiplash). A brain injury from whiplash is most common in the elderly and in people taking blood-thinning medications. Acute subdural hematoma develops rapidly, most commonly after serious head trauma caused by an assault, car accident or fall. It is a very severe brain injury that typically causes unconsciousness, and it is fatal in about 50% of cases.

Chronic subdural hematoma — Unlike the acute form, this type of subdural hematoma usually develops gradually because the bleeding inside the skull is less dramatic, and the hematoma can accumulate in several small, separate episodes of bleeding. A chronic subdural hematoma typically follows a fairly minor head injury in a person who is elderly, who is taking blood-thinning medications or whose brain has shrunk as a result of alcoholism or dementia. Symptoms develop gradually over one to six weeks. The most common symptoms are drowsiness, inattentiveness or confusion, headaches, changes in personality, seizures and mild paralysis.

Intraparenchymal hemorrhages and contusions— "Intraparenchymal" means "in the tissue." Intraparenchymal hemorrhage is pooling of blood that occurs within the brain tissue. A contusion is bruising in the brain—in a contusion, a bruise or an area of swelling can be seen on a CT scan but blood does not pool. The force of an impact on one side of the brain can cause the brain to bounce or ricochet within the skull. This can cause harm in two places—one directly beneath the "hit", and a second area of damage on the opposite side of the brain.

Concussion — If there are any symptoms of confusion, memory impairment or loss of consciousness after traumatic brain injury, the injury is called a "concussion." Symptoms of a concussion can include not having memory of the minutes immediately before the injury, temporarily losing consciousness, or having vomiting, dizziness, coordination problems, confusion, ringing in the ears, sleepiness or seizures. Head trauma can cause swelling inside the brain and a potentially deadly increase in pressure inside the skull.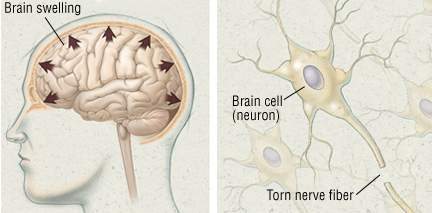 Each year, head injuries result in more than 2 million emergency department visits in the United States, with more than 72,000 deaths. An additional 80,000 to 210,000 people with moderate or severe head injuries become disabled or require extended hospital care. Overall, traumatic head injuries are the most common cause of death among Americans aged 45 and younger. In addition, head injuries resulting from falls are a very common cause of hospitalization and death among people older than 75. Men are three to four times more likely than women to sustain head injuries, and alcohol use is involved in about 50% of cases.
To continue reading this article, you must
login
.
Subscribe to Harvard Health Online for immediate access to health news and information from Harvard Medical School.