COVID-19 basics
Symptoms, spread and other essential information about the coronavirus and COVID-19
As we continue to learn more about coronavirus and COVID-19, it can help to reacquaint yourself with some basic information. For example, understanding how the virus spreads reinforces the importance of prevention measures. Knowing how COVID has impacted people of all ages may reinforce the need for everyone to adopt health-promoting behaviors. And reviewing the common symptoms of COVID-19 can help you know if it's time to get tested and self-isolate.
What is coronavirus?
Coronaviruses are an extremely common cause of colds and other upper respiratory infections. SARS-CoV-2, short for severe acute respiratory syndrome coronavirus 2, is the official name for the coronavirus responsible for COVID-19.
What is COVID-19?
COVID-19, short for "coronavirus disease 2019," is the name of the disease caused by the SARS-CoV-2 coronavirus.
How many people have COVID-19?
The numbers are changing rapidly.
The most up-to-date information is available from the World Health Organization, the US Centers for Disease Control and Prevention, and Johns Hopkins University.
In March 2020, the World Health Organization declared COVID-19 a pandemic (a term indicating that it has affected a large population, region, country, or continent).
Do adults younger than 65 who are otherwise healthy need to worry about COVID-19?
Yes, they do. Although the risk of serious illness or death from COVID-19 increases steadily with age, younger people can get sick enough from the disease to require hospitalization. And certain underlying medical conditions may increase the risk of serious COVID-19 for individuals of any age.
Everyone, including younger and healthier people, should get the vaccine once they are eligible, to protect both themselves and their community. Vaccines offer excellent (though not complete) protection against moderate to severe disease, hospitalization, and death.
In addition, the CDC advises everyone — vaccinated and unvaccinated — to wear masks in public indoor places in areas of the country with substantial or high transmission of the virus. The CDC also advises anyone at increased risk to wear a mask indoors, regardless of the level of community transmission. For people who are not fully vaccinated, the CDC continues to recommend mask wearing and other preventive measures such as physical distancing in some outdoors settings and in most indoor settings.
To check the level of virus transmission in your area, visit the CDC's COVID Data Tracker.
To what extent have younger adults been impacted by COVID-19?
According to the CDC's COVID Data Tracker, through mid-November 2021, about 38% of COVID cases in the US have been in adults aged 18 to 39 years. However, younger adults are less likely than older adults to die of COVID-19: Adults in the 18 to 39 age range account for about 2.4% of COVID deaths, compared to 76.8% for people older than 65.
But younger people can get sick enough from the disease to require hospitalization or to die. And they may be among the long haulers — people who continue to experience fatigue, brain fog, shortness of breath, or other symptoms weeks and months after their illness.
And as is true in other age groups, COVID illness and death has a disproportionate impact on younger adults of color.
Everyone, including younger and healthier people, should get the vaccine once they are eligible.
What are the symptoms of COVID-19?
Some people infected with the virus have no symptoms. When the virus does cause symptoms, common ones include fever, body ache, dry cough, fatigue, chills, headache, sore throat, loss of appetite, and loss of smell. In some people, COVID-19 causes more severe symptoms like high fever, severe cough, and shortness of breath, which often indicates pneumonia.
People with COVID-19 can also experience neurological symptoms, gastrointestinal (GI) symptoms, or both. These may occur with or without respiratory symptoms.
For example, COVID-19 affects brain function in some people. Specific neurological symptoms seen in people with COVID-19 include loss of smell, inability to taste, muscle weakness, tingling or numbness in the hands and feet, dizziness, confusion, delirium, seizures, and stroke.
In addition, some people have gastrointestinal (GI) symptoms, such as loss of appetite, nausea, vomiting, diarrhea, and abdominal pain or discomfort associated with COVID-19.
How soon can a person exposed to the virus expect symptoms to start?
On average, the time from exposure to symptom onset (known as the incubation period) is about five to six days. However, studies have shown that symptoms could appear as soon as three days after exposure to as long as 13 days later.
Can COVID-19 symptoms worsen rapidly after several days of illness?
Common symptoms of COVID-19 include fever, dry cough, fatigue, loss of appetite, loss of smell, and body ache. In some people, COVID-19 causes more severe symptoms like high fever, severe cough, and shortness of breath, which often indicates pneumonia.
A person may have mild symptoms for about one week, then worsen rapidly. Let your doctor know if your symptoms quickly worsen over a short period of time. Also call the doctor right away if you or a loved one with COVID-19 experience any of the following emergency symptoms: trouble breathing, persistent pain or pressure in the chest, confusion or inability to arouse the person, or bluish lips or face.
One of the symptoms of COVID-19 is shortness of breath. What does that mean?
Shortness of breath refers to unexpectedly feeling out of breath, or winded. But when should you worry about shortness of breath? There are many examples of temporary shortness of breath that are not worrisome. For example, if you feel very anxious, it's common to get short of breath and then it goes away when you calm down.
However, if you find that you are ever breathing harder or having trouble getting air each time you exert yourself, you always need to call your doctor. That was true before we had COVID-19, and it will still be true after it is over.
Is a lost sense of smell a symptom of COVID-19? What should I do if I lose my sense of smell?
A lost sense of smell, known medically as anosmia, is a common symptom of COVID-19. This is not surprising, because viral infections are a leading cause of loss of sense of smell, and COVID-19 is a caused by a virus. Still, loss of smell with COVID-19 appears to occur much more often compared to other viral infections. So, this symptom may help doctors identify people who do not have other symptoms, but who might be infected with the COVID-19 virus — and who might be unwittingly infecting others.
In addition to COVID-19, loss of smell can also result from allergies as well as other viruses, including rhinoviruses that cause the common cold. So anosmia alone does not mean you have COVID-19.
Tell your doctor right away if you find yourself newly unable to smell. He or she may prompt you to get tested and to self-isolate.
A November 2021 report published in JAMA Otolaryngology – Head and Neck Surgery found that between 700,000 and 1.6 million people in the US have experienced COVID-related loss or impaired sense of smell that lasted more than six months.
In nearly all cases, however, sense of smell returns within one year. A study of nearly 100 COVID patients who lost their sense of smell found that 86% recovered their sense of smell by six months after infection, and 96% recovered their sense of smell within 12 months after infection.
What are cytokine storms and what do they have to do with COVID-19?
A cytokine storm is an overreaction of the body's immune system. In some people with COVID-19, the immune system releases immune messengers, called cytokines, into the bloodstream out of proportion to the threat or long after the virus is no longer a threat.
When this happens, the immune system attacks the body's own tissues, potentially causing significant harm. A cytokine storm triggers an exaggerated inflammatory response that may damage the liver, blood vessels, kidneys, and lungs, and increase formation of blood clots throughout the body. Ultimately, the cytokine storm may cause more harm than the coronavirus itself.
A simple blood test can help determine whether someone with COVID-19 may be experiencing a cytokine storm. Many doctors, including those in the United States, have been treating very ill COVID-19 patients with dexamethasone and other corticosteroids (prednisone, methylprednisolone). Corticosteroids are potent anti-inflammatory drugs and thus make biologic sense for those patients who have developed an exaggerated inflammatory response to the viral infection.
Does COVID-19 cause strokes? What about blood clots in other parts of the body?
Strokes occur when the brain's blood supply is interrupted, usually by a blood clot. There have been reports of a greater-than-expected number of younger patients being hospitalized for, and sometimes dying from, serious strokes. These strokes are happening in patients who test positive for coronavirus but who do not have any traditional risk factors for stroke. They tend to have no COVID-19 symptoms, or only mild symptoms. The type of stroke occurring in these patients typically occurs in much older patients.
COVID-related strokes occur because of a body-wide increase in blood clot formation, which can damage any organ, not just the brain. A blood clot in the lungs is called pulmonary embolism and can cause shortness of breath, chest pain, or death; a blood clot in or near the heart can cause a heart attack; and blood clots in the kidneys can cause kidney damage requiring dialysis.
One possible reason for COVID-related blood clots may be a disturbance in the levels of a protein, called factor V, that is involved in blood clotting.
Can COVID-19 affect brain function?
COVID-19 does appear to affect brain function in some people. Specific neurological symptoms seen in people with COVID-19 include loss of smell, inability to taste, muscle weakness, tingling or numbness in the hands and feet, dizziness, confusion, delirium, seizures, and stroke.
One study that looked at 214 people with moderate to severe COVID-19 in Wuhan, China found that about one-third of those patients had one or more neurological symptoms. Neurological symptoms were more common in people with more severe disease.
Neurological symptoms have also been seen in COVID-19 patients in the US and around the world. Some people with neurological symptoms tested positive for COVID-19 but did not have any respiratory symptoms like coughing or difficulty breathing; others experienced both neurological and respiratory symptoms.
Experts do not know how the coronavirus causes neurological symptoms. They may be a direct result of infection or an indirect consequence of inflammation or altered oxygen and carbon dioxide levels caused by the virus.
"New confusion or inability to rouse" is on the CDC's list of emergency warning signs that should prompt you to get immediate medical attention.
How does coronavirus spread?
The coronavirus spreads mainly from person to person. A person infected with coronavirus — even one with no symptoms — may emit aerosols when they talk or breathe. Aerosols are infectious viral particles that can float or drift around in the air for up to three hours. Another person can breathe in these aerosols and become infected with the coronavirus.
When people are in close contact with one another, droplets that are produced when an infected person coughs or sneezes may land in the mouths or noses of people who are nearby, or possibly be inhaled into their lungs.
Transmission is less likely to happen outdoors, where air currents scatter and dilute the virus, than in a home, office, or other confined space with limited air circulation.
The risk of spread from contact with contaminated surfaces or objects is considered to be extremely low. According to the CDC, each contact with a contaminated surface has less than a 1 in 10,000 chance of causing an infection.
The virus may be shed in saliva, semen, and feces; whether it is shed in vaginal fluids isn't known. Kissing can transmit the virus. Transmission of the virus through feces, or during vaginal or anal intercourse or oral sex, appears to be extremely unlikely at this time.
Can people without symptoms spread the virus to others?
"Without symptoms" can refer to two groups of people: those who eventually do have symptoms (pre-symptomatic) and those who never go on to have symptoms (asymptomatic). During this pandemic, we have seen that people without symptoms can spread the coronavirus infection to others.
A person with COVID-19 may be contagious 48 hours before starting to experience symptoms. In fact, people without symptoms may be more likely to spread the illness, because they are unlikely to be isolating and may not adopt behaviors designed to prevent spread.
But what about people who never go on to develop symptoms? A study published in JAMA Network Open found that almost one out of every four infections may be transmitted by individuals with asymptomatic infections.
Getting vaccinated once you are eligible is important for protecting not just yourself but others as well; early evidence suggests that you're less likely to infect others, or may be contagious for a shorter period of time, once you've been vaccinated.
Are kids any more or less likely than adults to spread coronavirus?
Most children who become infected with the COVID-19 virus have no symptoms, or they have milder symptoms such as low-grade fever, fatigue, and cough. Early studies suggested that children do not contribute much to the spread of coronavirus. But more recent studies indicate that children are capable of spreading the infection.
Though the studies varied in their methods, their findings were similar: infected children had as much, or more, coronavirus in their upper respiratory tracts as infected adults. And a November 2021 study conducted by Harvard researchers again confirmed that children carry live virus capable of infecting others.
The amount of virus found in children — their viral load — was not correlated with the severity of their symptoms. In other words, a child with mild or no symptoms may have just as many viral particles in their nose and mouth as a child that has more severe symptoms. So, the presence of a high viral load in infected children increases the likelihood that children, even those without symptoms, could readily spread the infection to others.
The bottom line? Public health measures are as important for kids and teens as they are for adults.
What does the CDC's definition of "close contacts" mean for me?
The CDC defines a close contact as someone who spends 15 minutes or more within six feet of a person with COVID-19 over a period of 24 hours.
Close contacts are at increased risk of infection. When a person tests positive for COVID-19, contact tracers may identify their close contacts and notify them that they have been exposed.
Many factors can affect the chances that infection will spread from one person to another. These factors include whether or one or both people are wearing masks, whether the infected person is coughing or showing other symptoms, and whether the encounter occurred indoors or outdoors.
How could contact tracing help slow the spread of COVID-19?
Anyone who comes into close contact with someone who has COVID-19 is at increased risk of becoming infected themselves, and of potentially infecting others. Contact tracing can help prevent further transmission of the virus by quickly identifying and informing people who may be infected and contagious, so they can take steps to not infect others.
Contact tracing begins with identifying everyone that a person recently diagnosed with COVID-19 has been in contact with since they became contagious. In the case of COVID-19, a person may be contagious 48 to 72 hours before they started to experience symptoms.
The contacts are notified about their exposure. They may be told what symptoms to look out for, advised on when to get tested for the virus, whether and for how long to isolate themselves, and to seek medical attention as needed if they start to experience symptoms.
How long can the coronavirus stay airborne? I have read different estimates.
A study done by National Institute of Allergy and Infectious Diseases' Laboratory of Virology in the Division of Intramural Research in Hamilton, Montana helps to answer this question. The researchers used a nebulizer to blow coronaviruses into the air. They found that infectious viruses could remain in the air for up to three hours. The results of the study were published in the New England Journal of Medicine on March 17, 2020.
Can the COVID-19 virus spread through air conditioning?
We don't know for certain if the COVID-19 virus spreads through air conditioning. But we do know that when it's hot and humid, people are more likely to stay indoors, with the windows closed — giving the virus more opportunity to spread.
Coronavirus spreads through droplets that an infected person emits through coughs or sneezes and through smaller, infectious viral particles that can drift around in the air for several hours. Outdoors, air currents can scatter and dilute the virus, making transmission less likely. You're more likely to inhale the virus indoors, with the windows closed, whether or not you have the air conditioning on.
If you are indoors with anyone outside of your household, increase air circulation by keeping the windows open as much as possible.
Can I catch the coronavirus by eating food handled or prepared by others?
According to the CDC, the risk of getting COVID-19 by handling or consuming food from a restaurant, takeout, or drive-through is very low.
What is the naming system for COVID-19 variants?
The WHO announced a new naming system for COVID-19 variants in May 2021. The new names are intended to be easier to pronounce and will remove the stigma of a variant's being associated with a particular country.
Under the new system, the variants will be named using letters of the Greek alphabet. For example:
Alpha is the new name for the B.1.1.7 variant, first documented in the United Kingdom.
Beta is the new name for the B.1.351 variant, first documented in South Africa.
The P.1 variant, first documented in Brazil, will now be known as Gamma.
The B.1.617.2 variant, first documented in India, will be called Delta.
For a complete list of new SARS-CoV-2 variant names, click here.
Scientists will likely continue referring to variants by strings of letters and numbers, which provide information about a variant's lineage.
What do we know about the Omicron variant?
The World Health Organization and CDC classified a new variant of concern (VOC) in November 2021. Named Omicron by the WHO, the variant also goes by the scientific name B.1.1.529.
Omicron has about 50 mutations, including more than 30 mutations on the spike protein, the region of the virus that binds to and allows the virus to enter human cells. One reason scientists are raising early concerns about Omicron is because it contains several mutations that made earlier variants (Alpha, Beta, Gamma, and Delta) more transmissible and better able to evade the immune response.
A combination of these two attributes — increased transmissibility and immune evasion — could give Omicron a big advantage over other variants, including the currently predominant Delta variant. Several key mutations in Omicron's spike protein hint that this variant may be more transmissible, spreading more easily from person to person. The many spike protein mutations found in Omicron also raise concerns that the immune system will have trouble recognizing it, allowing it to evade antibodies from previous infection or vaccines. (COVID-19 vaccines work by stimulating the body to produce antibodies against the spike protein. If they later encounter the virus, the antibodies recognize the spike protein and destroy the virus. Previous COVID-19 infection has a similar effect.) We don't yet know if this is the case, though there is preliminary evidence of an increased risk of reinfection compared with other variants.
Fortunately, vaccine responses aren't all or nothing. And even if vaccines aren't as effective against preventing infection with Omicron, they should still provide some degree of protection against serious illness and death. That's because in addition to stimulating an antibody response, vaccines also stimulate production of T cells, a type of immune cell that attacks infected cells. This immune response should remain intact regardless of mutations to the spike protein. However, because some of Omicron's many mutations are in the part of the virus that is targeted by T cells, there is some concern that the T cell response might be partially compromised as well.
An important unanswered question is whether Omicron inherently causes more severe disease. There is no evidence of this yet. And from an evolutionary perspective, it's unlikely; viruses that are both more transmissible and more virulent (and thus more likely to kill their host) wouldn't survive for very long. On the other hand, a more transmissible virus, even if it's not more dangerous, will lead to a larger number of severe illnesses, hospitalizations, and deaths, based simply on the increased number of people it infects.
So, first and foremost, if you are unvaccinated, get vaccinated. If you are eligible for a booster shot, get boosted. The evidence is clear that booster shots sharply increase antibody levels, and that may help fend off infection and illness. One advantage of mRNA vaccines (Pfizer/BioNTech and Moderna) is that they can more quickly be modified to work against new variants, and both companies are already looking into possible adaptations. Makers of the adenoviral vector vaccines, like Johnson & Johnson, are also in the process of developing next-generation vaccines.
Preventive health measures build upon one another. In addition to getting vaccinated, everyone should
wear a well-fitting mask (surgical masks are better than cloth)
wash hands frequently
physically distance from others
improve indoor ventilation (open windows, etc.)
avoid crowded spaces.
A person infected with the Omicron variant will test positive on currently used diagnostic PCR tests, but additional testing would be needed to identify which variant the person was infected with. Rapid antigen tests should also remain effective because they test for a host of COVID proteins that can be detected even if there are genetic mutations. But similar to the original virus and other variants, the rapid antigen tests will likely not be as reliable as PCR tests.
Omicron was first detected in South Africa, though it did not necessarily originate there. Due to robust genetic sequencing efforts in South Africa, scientists identified the new variant early, and shared the information with scientists around the world. Omicron has now been detected in the US and in countries across the globe, including Japan, India, Australia, Israel, Saudi Arabia, many countries in Europe, Brazil, and Canada.
We're likely to learn much more about Omicron in the coming weeks. Studies are already underway looking at transmissibility, severity of infection, performance of vaccines and diagnostic tests, and effectiveness of treatments against this variant.
What do I need to know about the Delta variant?
The Delta variant is different from previous SARS-CoV-2 variants that have made their way to the US. It's highly contagious and may cause more severe disease. It is also more likely than previous variants to be spread by vaccinated people experiencing breakthrough infections.
Evidence presented to the CDC showed the Delta variant to be much more contagious than previous variants, with a risk of transmission similar to chickenpox. It also appears that people who are infected can spread the virus for longer periods of time.
In addition, people who are vaccinated and then get infected (breakthrough infections) can also spread the virus to others, perhaps to the same extent as those who are unvaccinated. However, people with breakthrough infections appear to be contagious for a shorter period of time.
Finally, international studies point to the Delta variant being more likely to cause severe disease.
The good news is that while vaccination may be less effective at preventing infection and spread of the Delta variant, it is still highly protective against severe disease, hospitalization, and death. Get the COVID-19 vaccine if you have not already done so.
In July 2021, the CDC advised all people — vaccinated and unvaccinated — to wear masks in public indoor places, in areas of the country with substantial or high transmission of the virus. Given the threat posed by the Delta variant, it's reasonable for everyone to start wearing a mask in indoor public spaces, regardless of the level of virus in your area.
Masks reduce the amount of virus we breathe in, and breathe out. Combined with the vaccine, masks provide a one-two punch that reduces the risk of spread — to children who are not yet eligible for vaccines, to people with weakened immune systems, and to others who are unvaccinated. Masks also provide additional protection for the wearer, including who are fully vaccinated.
What do I need to know about the AY.4.2 (Delta Plus) variant?
As viruses replicate, they may mutate, or slightly alter their genetic sequence. If a mutation is advantageous — making the virus more transmissible or able to sidestep immune protection — it's more likely to survive and thrive. That's what happened with the Delta variant, which was many times more contagious than the original SARS-CoV-2 virus and quickly became the dominant variant around the globe. A new variant called AY.4.2 (or Delta Plus), a descendent of the Delta variant, is now gaining attention.
The AY.4.2 variant makes up about 11% of sequenced cases in the United Kingdom. It has also been identified in a handful of US states, but at present is responsible for less than 0.1% of COVID-19 cases in the US. The WHO has not classified AY.4.2 as a variant of concern or a variant of interest.
Preliminary evidence from the United Kingdom suggests that AY.4.2 is not more likely to lead to hospitalization or cause severe disease. And in a White House briefing, the CDC director said there is no evidence that this variant is less susceptible to current vaccines and treatments. It also does not appear more adept at evading immune protection.
However, there is a lot we still don't know about the AY.4.2 variant, including whether and to what extent it is more transmissible than the original Delta variant. At this point, it appears to be only slightly more contagious (10% to 15%). Its spread may also be influenced by human behaviors, such as whether people are masking indoors and the degree to which people in a community are vaccinated.
It seems very likely that we will be living with this virus, and its variants, for some time to come. The best way to minimize the emergence of new variants, and to protect ourselves from variants that already exist, is to vaccinate as many people around the world as possible. Why? Because the less the virus spreads, the less opportunity it has to replicate and mutate. For the same reason, it's vital to mask indoors, optimize ventilation, get tested if you have symptoms or are exposed to someone with COVID-19, and isolate if you test positive.
Which vaccines has the FDA approved and authorized for COVID-19?
In August 2021, the FDA granted full approval to the mRNA COVID-19 vaccine developed by Pfizer and BioNTech. This vaccine had received emergency use authorization (EUA) in December 2020. The mRNA COVID-19 vaccine developed by Moderna also received EUA in December 2020. The Johnson & Johnson adenovirus vaccine was granted EUA by the FDA in late February 2021.
The Pfizer-BioNTech vaccine has also been authorized for children ages 5 to 17 years, though children ages 5 to 11 will receive a lower dose.
In addition, booster doses of all three vaccines have been authorized for eligible recipients.
Should I get a flu shot?
While the flu shot won't protect you from developing COVID-19, it's still a good idea. Most people older than six months can and should get the flu vaccine. Doing so reduces the chances of getting seasonal flu. Even if the vaccine doesn't prevent you from getting the flu, it can decrease the chance of severe symptoms. But again, the flu vaccine will not protect you against COVID-19.
Is it safe to use steroids to control allergy and asthma symptoms during the COVID-19 pandemic?
Yes, it is safe to use corticosteroid nasal sprays to control nasal allergies or inhaled corticosteroids to control asthma symptoms during the COVID-19 pandemic.
The American College of Allergy, Asthma and Immunology (ACAAI) issued a statement emphasizing the importance of controlling allergy and asthma symptoms during the pandemic. They said there is no evidence that intranasal or inhaled corticosteroids increase the risk of getting the COVID-19 infection or lead to a worse outcome if you do get infected.
The ACAAI statement was a response to concerns over reports warning against the use of systemic steroids to treat hospitalized COVID-19 patients with specific respiratory complications. However, those reports did not refer to healthy individuals using corticosteroid nasal sprays or inhalers to manage allergies or asthma.
Blog posts
Podcasts
With the COVID-19 pandemic still ongoing, and the annual flu season fast approaching, what can people expect when these two illnesses collide? Are we at greater risk for getting either virus? And could this encounter change how we approach health care now and in the future? Matthew Solan, executive editor of the Harvard Men's Health Watch, talks to Dr. Amy Sherman, an infectious disease expert with Harvard's Brigham and Women's Hospital, about what we may expect when COVID and the flu season meet. To learn more check out our Harvard Medical School Guide, COVID-19, Flu and Colds.
Dr. Ashish K. Jha, head of the Harvard Global Health Institute, offers information on where we are where we're going with the COVID-19 outbreak. Some take-aways:
Communications missteps by the WHO regarding asymptomatic transmission have been quickly corrected. Yes, you can catch COVID-19 from people who are not showing symptoms.
A second wave has begun, particularly in the south and Midwest. And calculations show we'll reach more than 200,000 COVID-19 related deaths by September.
Jha offers advice for parents, teachers and administrators on workable back-to-school scenarios.
We know you don't want to hear it, but COVID-19 will be a fact of global life for the rest of the year until a vaccine becomes widely available.
Dr. Todd Ellerin is on the front lines of infectious disease containment and mitigation as the director of infectious diseases at South Shore Health in Weymouth, Massachusetts. He's an instructor at Harvard-affiliated Brigham and Women's Hospital. We spoke to him this week to get an update on the rapidly developing story surrounding the coronavirus Covid-19.
The COVID-19 outbreak has caused markets to collapse and worldwide health systems to become overwhelmed. When there's a global pandemic, it's nice to hear from the steady, transparent and yes even reassuring voice of experts on the front lines. We spoke to Dr. Ashish K. Jha, faculty director of the Harvard Global Health Institute. Dr. Jha's recent appearance on the PBS Newshour caused reverberations throughout the federal and state response system. Here's his update.
Visit our Coronavirus Resource Center for more information on coronavirus and COVID-19.
Image: gemphotography/Getty Images
Disclaimer:
As a service to our readers, Harvard Health Publishing provides access to our library of archived content. Please note the date of last review or update on all articles. No content on this site, regardless of date, should ever be used as a substitute for direct medical advice from your doctor or other qualified clinician.
You might also be interested in…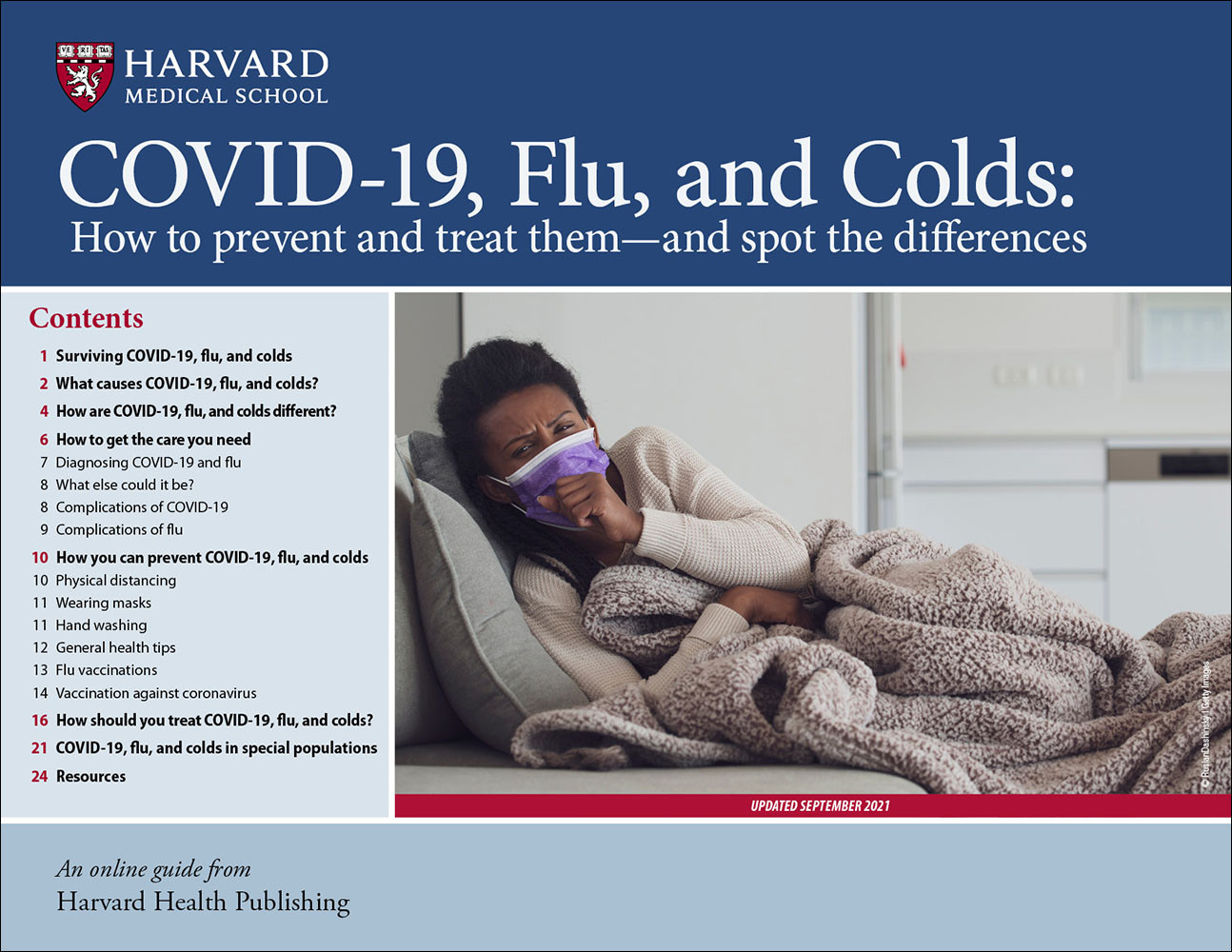 COVID-19, Flu, and Colds
Any given year, we'll collectively come down with one billion colds and up to 45 million cases of flu, while the number of new cases of COVID-19 keeps rising. In this guide, you will learn how to avoid getting any of these three viral infections, and, if you do get sick, what you can do to feel better. You'll also learn when your condition is serious enough to call a doctor. The report also provides specific information about high-risk groups for whom COVID and the flu can be very serious.
Read More
Free Healthbeat Signup
Get the latest in health news delivered to your inbox!