Advice on playdates, social distancing, and healthy behaviors to help prevent infection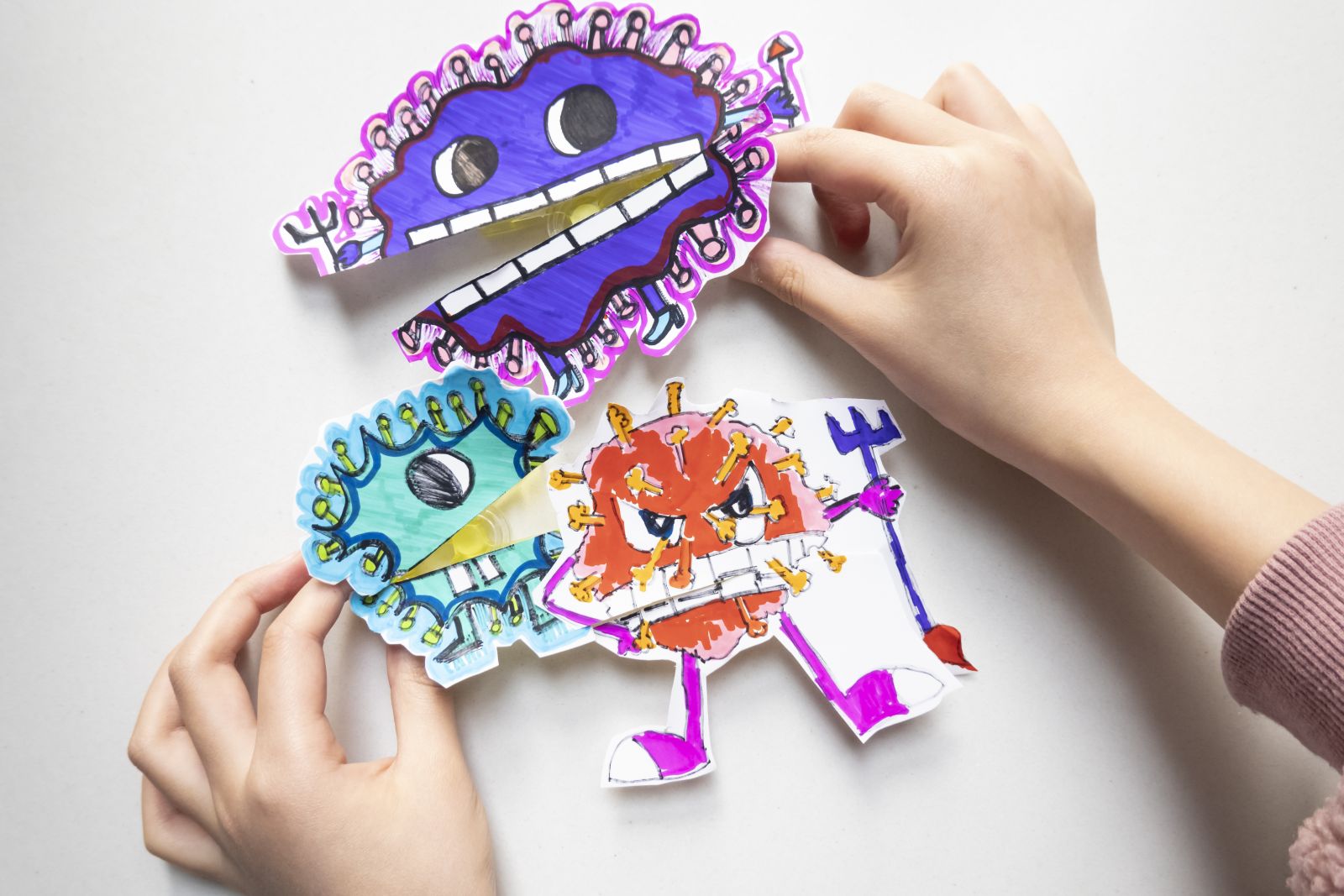 Children's lives have been turned upside down by this pandemic. Between schools being closed and playdates being cancelled, children's routines are anything but routine. Kids also have questions about coronavirus, and benefit from age-appropriate answers that don't fuel the flame of anxiety. It also helps to discuss — and role model — things they can control, like hand washing, social distancing, and other health-promoting behaviors.
How does COVID-19 affect children?
Children, including very young children, can develop COVID-19. Many of them have no symptoms. Those that do get sick tend to experience milder symptoms such as low-grade fever, fatigue, and cough. Some children have had severe complications, but this has been less common. Children with underlying health conditions may be at increased risk for severe illness.
A complication that has more recently been observed in children can be severe and dangerous. Called multisystem inflammatory syndrome in children (MIS-C), it can lead to life-threatening problems with the heart and other organs in the body. Early reports compare it to Kawasaki disease, an inflammatory illness that can lead to heart problems. But while some cases look very much like Kawasaki's, others have been different.
Symptoms of MIS-C can include
fever lasting more than a couple of days
rash
conjunctivitis (redness of the white part of the eye)
stomachache
vomiting and/or diarrhea
a large, swollen lymph node in the neck
red, cracked lips
a tongue that is redder than usual and looks like a strawberry
swollen hands and/or feet
irritability and/or unusual sleepiness or weakness.
Many conditions can cause these symptoms. Doctors make the diagnosis of MIS-C based on these symptoms, along with a physical examination and medical tests that check for inflammation and how organs are functioning. Call the doctor if your child develops symptoms, particularly if their fever lasts for more than a couple of days. If the symptoms get any worse or just don't improve, call again or bring your child to an emergency room.
Doctors have had success using various treatments for inflammation, as well as treatments to support organ systems that are having trouble. While there have been some deaths, most children who have developed MIS-C have recovered.
Are kids any more or less likely than adults to spread coronavirus?
Most children who become infected with the COVID-19 virus have no symptoms, or they have milder symptoms such as low-grade fever, fatigue, and cough. Early studies suggested that children do not contribute much to the spread of coronavirus. But more recent studies raise concerns that children could be capable of spreading the infection.
Though the recent studies varied in their methods, their findings were similar: infected children had as much, or more, coronavirus in their upper respiratory tracts as infected adults.
The amount of virus found in children — their viral load — was not correlated with the severity of their symptoms. In other words, more virus did not mean more severe symptoms.
Finding high amounts of viral genetic material — these studies measured viral RNA, not live virus — in kids does not prove that children are infectious. However, the presence of high viral loads in infected children does increase the concern that children, even those without symptoms, could readily spread the infection to others.
Should parents take babies for initial vaccines right now? What about toddlers and up who are due for vaccines?
Getting early immunizations in for babies and toddlers — especially babies 6 months and younger — has important benefits. It helps to protect them from infections such as pneumococcus and pertussis that can be deadly, at a time when their immune system is vulnerable.
For children older than 2 years, waiting a bit longer may be okay. But for some children with special conditions, or those who are behind on immunizations, waiting may not be a good idea. The best thing to do is call your doctor's office. Find out what precautions they are taking to keep children safe, and discuss your particular situation, including not only your child's health situation, but also the prevalence of the virus in your community and whether you have been or might have been exposed. Together, you can make the best decision for your child.
When do you need to bring your child to the doctor during this pandemic?
If you have any concerns about your child, call your doctor's office for advice. Many practices are offering phone or telemedicine visits, and it's remarkable how many things can be addressed that way.
Some things, though, may require an in-person appointment, including:
Illness or injury that could be serious, such as a child with trouble breathing, significant pain, unusual sleepiness, a high fever that won't come down, or a cut that may need stitches or a bone that may be broken. Call your doctor for guidance as to whether you should bring your child to the office or a local emergency room.
Children who are receiving ongoing treatments for a serious medical condition such as cancer, kidney disease, or a rheumatologic disease. These might include chemotherapy, infusions of other medications, dialysis, or transfusions. Your doctor will advise you about any changes in treatments or how they are to be given during the pandemic. Do not skip any appointments unless your doctor tells you to do so.
Checkups for very young children who need vaccines and to have their growth checked. Check with your doctor regarding their current policies and practices.
Checkups and visits for children with certain health conditions. This might include children with breathing problems whose lungs need to be listened to, children who need vaccinations to protect their immune system, children whose blood pressure is too high, children who aren't gaining weight, children who need stitches out or a cast off, or children with abnormal blood tests that need rechecking. If your child is being followed for a medical problem, call your doctor for advice. Together you can figure out when and how your child should be seen.
Bottom line: Talk to your doctor. The decision will depend on a combination of factors including your child's condition, how prevalent the virus is in your community, whether you have had any exposures or possible exposures, what safeguards your doctor has put into place, and how you would get to the doctor.
With schools closing in many parts of the country, is it okay to have babysitters or child care people in the house given no know exposures or illness in their homes?
The truth is that the fewer people you and your children are exposed to, the better. However, the reality is that not every family will be able to have a parent at home at all times.
All people can do is try to minimize the risk by doing things like:
choosing a babysitter who has minimal exposures to other people besides your family
limiting the number of babysitters. If you can keep it to one, that's ideal, but if not keep the number as low as possible
making sure that the babysitter understands that he or she needs to practice social distancing, and needs to let you know (and not come to your house!) if he or she feels at all sick or has a known exposure to COVID-19
having the babysitter limit physical interactions and closeness with your children, to the extent that this is possible
making sure that everyone washes their hands frequently throughout the day, especially before eating.
With social distancing rules in place, libraries, recreational sports and bigger sports events, and other venues parents often take kids to are closing down. Are there any rules of thumb regarding play dates? I don't want my kids parked in front of screens all day.
Ideally, to make social distancing truly effective, there shouldn't be play dates. If you can be reasonably sure that the friend is healthy and has had no contact with anyone who might be sick, then playing with a single friend might be okay, but we can't really be sure if anyone has had contact.
Outdoor play dates, where you can create more physical distance, might be a compromise. Something like going for a bike ride, or a hike, allows you to be together while sharing fewer germs (bringing and using hand sanitizer is still a good idea). You need to have ground rules, though, about distance and touching, and if you don't think it's realistic that your children will follow those rules, then don't do the play date even if it is outdoors.
You can still go for family hikes or bike rides where you're around to enforce social distancing rules. Family soccer games, cornhole, or badminton in the backyard are also fun ways to get outside.
You can also do virtual play dates, using a platform like FaceTime or Skype so children can interact and play without being in the same room.
I live with my children and grandchildren. What can I do to reduce the risk of getting sick when caring for my grandchildren?
In a situation where there is no choice — such as if the grandparent lives with the grandchildren — then the family should do everything they can to try to limit the risk of COVID-19. The grandchildren should be isolated as much as possible, as should the parents, so that the overall family risk is as low as possible. Everyone should wash their hands very frequently throughout the day, and surfaces should be wiped clean frequently. Physical contact should be limited to the absolutely necessary; as wonderful as it can be to snuggle with Grandma or Grandpa, now is not the time.
More about kids and coronavirus
Podcasts
Back to school: It's never been more complicated (recorded 7/30/2020)
Sending kids back to school in the fall is always a hopeful time in America. For most families, school is a vital part of the community. With the surge in coronavirus in many areas of the country, getting kids back in the classroom safely will require a major re-evaluation to reduce transmission rates that can impact people of all ages. We talked to Allan Geller, a senior lecturer in the Department of Social and Behavioral Sciences at Harvard's T.H. Chan School of Public Health. Like it or not, for school teachers and administrators, things are going to be different. Don't expect the traditional.
For more information on coronavirus and COVID-19, see the Harvard Health Publishing Coronavirus Resource Center.
Disclaimer:
As a service to our readers, Harvard Health Publishing provides access to our library of archived content. Please note the date of last review or update on all articles. No content on this site, regardless of date, should ever be used as a substitute for direct medical advice from your doctor or other qualified clinician.